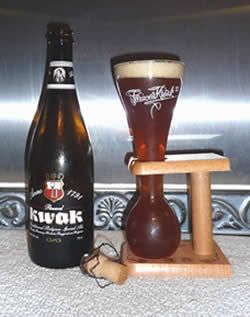 You may have noticed in recent reviews for The Brew Club, that Belgian beers are each served in their own distinctive glasses. Trappist and Abbey style beers tend to be served in glasses reminiscent of chalices, partly to accentuate their monastic heritage and partly to accentuate  each brew's distinctive 'nose'. Pauvel Kwak has perhaps the most distinctive glass of them all.
The Pauwel Kwak glass is a traditional 'stirrup cup' – you might recognise the shape from the yards of ale served in traditional English Inns (usually to humiliate tourists) or in Mexican resorts like Cancun (for much the same reason). The stirrup cup is supposed to hang  by a stirrup in a coach, but for more traditional bars they serve it on a wooden frame. The complete glass and frame is sometimes known as a 'shoe', and  many bars that serve Kwak in the traditional glass demand a shoe as deposit, to discourage drinkers from inadvertently taking the glasses away with them.
The brewery would have you believe that the glass was designed by Pauwel Kwak, the innkeeper of 'De Hoorne' Inn "in Napoleon's time" and while the Bosteels brewery was founded in 1791, Kwak beer was in fact first brewed in the 1980s. It's a nice story though, and an unusual glass.
The beer itself is a 'Belgian Golden Ale' – much like Duvel, which I reviewed for Christmas. The head is minimal, and doesn't produce any noticeable lacing, and there's very little nose… maybe a few hints of vanilla and toffee.
The beer itself is toffee coloured, and toffee is an appropriate keyword, the flavour has hints of both vanilla and toffee, with the underlying threat of the cane sugar that is key to the beer's 8% strength.
After trying a number of Belgian brews recently, I have come to the conclusion that cane sugar is the distinctive underlying 'Belgian' flavour I have referred to in the past. But that's only the 'strong' Belgian ales, which are largely brewed for export and tourists.  It's no coincidence that the majority of the bars I encountered in Brussels served Leffe.
Overall, it's an interesting drink, although perhaps made more interesting by the drinking vessel, something to put on the 'been there, drunk that' list, but in all honesty, I don't think I'd put it high on my 'drink again' list.
Three stars (and one of those is for the glass).
Rating:
Bob the Brit