To me, almost nothing is more dreary than the first workday after the New Year celebration.  Let's think back over the past couple of months, shall we?  We had Halloween and the associated Oktoberfest beer reviews, then Thanksgiving where Liz found a Turkey-flavored beer that she loved (but we rejected it – and her) , and then of course, there's Christmas and the New Year celebrations with all of the great Holiday Beers!
Now we come to January.  Snow, darkness, cold.  Blah.  Nothing to look forward to until the Springtime!
But wait!  The brewers of the world have given us hope!  We have Winter Beers to review and sustain us until the flowers of spring are being trampled below our feet, and the smell of fresh manure wafts above gardens all around us!  Thank goodness for beer!  Winter beer.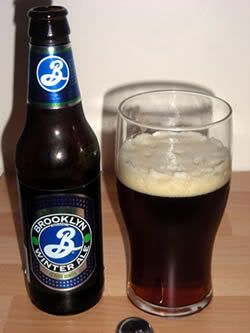 The Brew Club's first 2009 Winter beer review is the Brooklyn Brewery Winter Ale!  Reigning from New Jersey, one would think I would have had a steady diet of this locally crafted beer over the years!  I must confess to you that this Winter Ale is my first sampling of any of the beers made by Brooklyn Brewery!  Shame on me?  Maybe.  Shame on you? Certainly.
To start off, this ale is a nice medium-amber color, not too bubbly or carbonated, and it didn't create much of a head in my knock-off Guinness glass.  Not surprisingly, it didn't leave much lacing on the glass either, but that's OK!
The smell of the Brooklyn Winter Ale is great – warm, malty, inviting.  It's fragrant to the point where I can smell the malt as it sits beside me on my desk! According to the wintery-colored label, this Winter Ale is made with "…heirloom Maris Otter malts to create a beer with roots in blustery Scotland."  Well, I'm not sure how blustery Scotland is, but I will say that the 'nose' of this beer reminds me a lot of the Sam Adams Scottish Ale, which I do not think is made anymore!
Many times, Scottish ales are maltier and darker than their English cousins – maybe that's what Brooklyn was after.   Regardless, this beer smells good, and if you like malty smelling beers you will like this this one.  Maybe you will bathe in it, I just don't know what you'll do when you smell it.
Tasting the beer, it isn't surprising especially if you've been whiffing it for awhile like I just was.  The maltyness really comes through, and it has a slickish mouthfeel to it and it has a decent medium body.  Surprisingly, there is also a bit of hops that comes through in the finish, and to me is just a little bit spicy. There is some good bitterness to the aftertaste, and as I was drinking this beer I was thinking it would be a super beer to have along with a good burger and fries.  Mmmmmmm pizza.
So what do I think?  Overall, this 6% ABV Winter Ale from Brooklyn Brewing is a pretty good beer – it isn't too 'experimental' or weird in any sense, and in that regard it might make a good 'gateway' beer, or just for good drinking if you want a quality wintery ale with no surprises.  Its a good beer and I think I'll have another please!
Rating:
Pssssst!  Home Beer Brewing Kits make cool gifts!