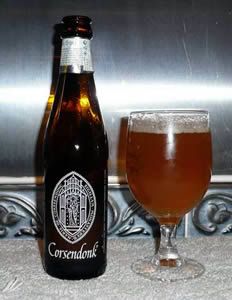 Like Leffe which I reviewed recently, Corsendonk is another Belgian Abbey ale. That is, brewed in something approaching the trappist style, but by a large commercial brewery rather than artisan monks.
Again like Leffe, the Abbey (well, Priory actually) to which the Corsondonk name refers was dissolved in the late 18th century, but the 'brewery' founded in the 20th century; the old priory is now a hotel.  The heritage of this beer is more confusing than most, with it first appearing in its current forms in the early 1980s, and then the brewing being moved from the Oud Turnhout brewery to the Brasserie du Bocq.  The more you research it, the more Corsondonk appears to be simply a marketing brand, although maybe I'm just getting cynical.
Corsendonk produce two main ales, Agnes (Pale) and Pater (Brown) – both brewed to 7.5% ABV, sadly I was limited as to how many beers I could either drink while in Brussels, or bring home for tasting, so today it's just the Agnes.
On opening the bottle you're struck with an unmistakable scent of malt, with the merest hint of hops. If you're looking for hops, then stick to IPA.
Flavour wise, again you're faced with that distinctive sweet/sour flavour than can only be described as Belgian – in the same way that you can identify a Pilsner Lager or a Bitter style, if not a specific brew, but in all honesty this is disappointing, just another strong Belgian Ale.  Give me a Leffe any day, or better still a real Trappist ale… I'll dig some out for our mutual pleasure.
Ummm…. 2.5 stars… good, but not that good.
Rating:
Have you ever tried Corsendonk?  What do you think of Bob's opinion on this Belgian beer?  Also, check out more of what Bob has to say on his own place on the web – Mallorn.net!
If you're thinking about trying to brew some beer at home, check this information on home beer-brewing kits!