The Brew Club is always willing to try new beers and review them for our readers, no matter what they are.  Now, going into this latest beer review, there are two things to note about this beer.
This gluten free beer is from the people who bring you Budweiser.  While The Brew Club is not a 'craft beer only website', anytime we review something by Anheuser Busch we get some flack.  OK, that's fine, but remember we're not just a craft beer site!
More importantly, Redbridge beer is wheat free and gluten free. This is a definite first for me personally, as well as for The Brew Club!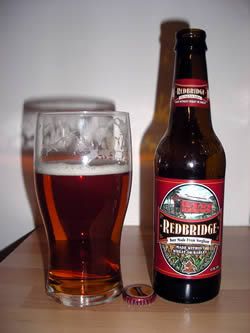 The label reads that the RedBridge beer is "Beer made from Sorghum", which is a different type of grain that is safe for people to consume who otherwise need to avoid products containing wheat or gluten.  I'm really not too sure what to expect!  Can this Redbridge beer be good enough to purchase and enjoy voluntarily, rather than only out of necessity due to having a dietary restriction?  Will I ever bring a six-pack of this gluten-free beer to a party just because??? Will I ever even be invited to a party?  Let's see!
First, the beer is a very light amber color – very, very very light depite the redness that seems to appear in the picture.  It looks very pale to me but reminds me a little of the color of a light Marzen.  When poured, Redbridge did create a big foamy head in my glass (root beer float style), but that went down really quick leaving only a slight foam ring around the perimeter of my beer glass.  Swirling the beer around in my glass leaves a touch of lacing, but that doesn't really cling to the glass in any way special.  The Redbridge beer is really, really clear as well – nothing floating around in there, and not much in the way of carbonation at all.
The beer smells OK.  I've never smelled a beer made from Sorghum before, so I don't have a comparative basis to go on here.  I'd say it smells sweet, floral even, and again reminds me a bit of a Marzen type of beer.  My nose didn't seem to miss the gluten!  I you didn't read the label, I don't think anyone would mistake this beverage as anything but some kind of beer – the point I'm trying to make is that the scent is familiar –  It smells like beer.
How does Redbridge gluten free beer taste?  Granted, I blasted all of the carbonation out of the beer during my preferred beer pour, but I have to say starting with the mouthfeel that this beer felt like thick water in my mouth.  No burn, and no bite except the teeniest tiniest hop bite at the veeeeeerryyy end of the finish.  So, the Redbridge beer is smooth, no doubt. Mouthfeel is watery, the body is on the thin side I would say, it certainly is not as satisfying as other beers I've had recently, but again I'd love to compare it to another gluten free beer.
The taste overall is plain – as I drink more of it, I keep thinking that people  might like this wheat free and barley free beer if they want something without much character I guess.  Sometimes, 'a beer' will do, and this could fit the bill.  It isn't bad, but as someone who does not have ciliac disease or otherwise have to follow a wheat free or gluten free diet, I am doubtful that I would have this beer again unless I was just craving that 'beer flavor' for some reason.  Still, if someone bought one for me I'd gladly accept!
That said, I think that this Sorghum beer is perfectly acceptable in how it tastes, and despite its wateriness and lack of character its still a vast improvement over the regular 'Bud' if that's what you're comparing to.  It just isn't something I would buy for the heck of it.  (Liz might though – oh, she DID buy it!)  Having later tried the Bard's Tale Sorghum based beer, I thought it was much better overall than the Redbridge.
On the other hand, if you do follow a restricted diet because of dietary or religious reasons, the Redbridge from Anheuser Busch is not bad at all, and I don't think anyone will be screaming in horror when they drink it, and even though I'm a little hard on it, I'm actually not screaming in horror as I type this.   I think its much better than the regular Bud, and I would venture to say its better than any of the other beers that The Brew Club has ranked below two stars!  That's pretty good – it just isn't for me!  The Redbridge just isn't interesting enough, or tasty enough for me to get it again.
Rating:
I'm not trying to steal Redbridge's thunder here, but we crafted a gluten free beer list that you might want to consider if you are on a wheat-free diet and want to have a beer.  Obviously, please check the labels – due diligence applies!
In addition, the people over at glutenfree.com claim to stock over 650 various gluten-free products.  Might be worth checking out.
So there you have it!  Do you enjoy a gluten free beer?  What is is it?  Why not let us know what you think about it by commenting below!  Join the conversation!