In recent beer reviews for The Brew Club I have been exploring the delights of Belgian beers, and have endeavoured to explain the difference between 'Abbey' ales (brewed commercially but in a Trappist style) and 'Trappist' ales (brewed by monks in an Abbey brewery). I believe I mentioned in passing that there are four Trappist breweries in Belgium (there are six actually – Achel, Chimay, Westmalle, Westvleteren, Orval and Rochefort ) and one in Holland.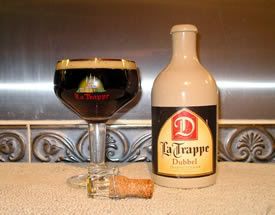 The Dutch Trappist brewery is De Koningshoeven Brewery near the town of Tilsberg and the beer they brew is known as La Trappe (marketed in the US as Koningshoeven). There has been some dispute over its Trappist authenticity as the brewery had been sold to commercial enterprise, but after a lengthy battle they were readmitted to the Trappist beer fraternity in 2006. The brewery is still commercial, but administered by the abbey's monks.
Several strengths of La Trappe ale are produced year round, with some seasonal brews. The year round brews include Blonde (6.5% ABV), Dubbel (7%), Trippel (8%) and Quadrupel (10%) – but I've never seen it.  It's easy to see how Abbey beers like Leffe got their inspiration.
For the purposes of this review I have chosen the Dubbel, which is available in unusual ceramic flagons. You will note the authentic 'La Trappe' glass (chalice); every Belgian brewery has its own distinctive glass, and each beer is served in the correct glass in most Belgian bars.  Somewhere at home I have a box with about thirty different beer glasses from around the world, but there's a limit to how much shelf space the missus will let me have!
Pouring the beer produces a rich, foamy head that fades quite quickly, leaving just a trace of foam around the glass that laces nicely through the drinking.   There's a spicy, malty nose without too much hoppiness coming through, the malt overpowers any hint of hops.  The mouth feel is good, full bodied and fruity, with rich chocolate and caramel flavours, sweet but slightly spicy, redolent of a rich fruit cake. The taste is perhaps less full than I recall from earlier tastings, the brewery changed its yeast strain just over ten years ago, and the yeast (I suspect from the taste) has yet to fully bed in.
Rating:
Three and a half stars.
These Belgian Beers are just so darn good you have to start differentiating the merely good from the great!