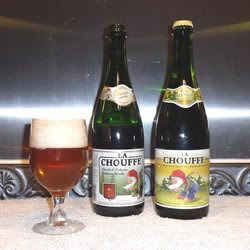 I recently reviewed Duvel Belgian Ale for The Brew Club and mentioned that in 2006 Duvel acquired the Brasserie d'Achouffe, an artisan brewer known for brewing large bottles of fine Belgian Ale like La Chouffe.
In a previous life I worked with the husband of the Brasserie d'Achouffe's Quality Manager – now there's a job to aspire to! She gave me a bottle of that particular year's Christmas Ale "N'ice Chouffe" which came in at a full 10% ABV and went down a storm with that year's Christmas dinner!
The La Chouffe brewery opened initially as a hobby in 1982 and quickly gained a reputation for brewing strong Belgian Ales, normally at least 7%, with distinctive gnomes on the label (Chouffe means 'gnome' in the local dialect). Their standard bottle is 75cl, so unless you're inviting a few friends round, hide the car keys!
I have described the distinctive 'Belgian Taste' in the past; I'm not sure whether it's the yeast, the barley, or just the strength of Belgian Beers that make them so distinctive, but once you get the hang of it, a Belgian beer is as distinctive as a Chardonnay or Rioja wine. I did comment in my review of Pauwel Kwak that many of the stronger Belgian Ales are perhaps targeted at tourists as oddities rather than regular drinkers, but beers from La Chouffe, coming from a 'hobby' brewery are a welcome exception. Despite the new ownership it is clear that these beers are brewed with a real passion, and that passion comes through in the taste.
The beer I opened was one of the last pre-Duvel takeover brews and is unpasteurised. It pours, as you will see, with a generous head – what Scott would describe 'a root beer float' head. This is quite slow to subside and leaves considerable lacing on the glass. The mouth feel is, as you would expect from an 8% beer, substantial, almost 'chewy'. You know you're drinking something rather special.
The flavour is a good balance of malt and hops, the background flavour of candy sugar that should warn you you're drinking something potent, and there's a definite spice flavour, almost fruit cake. It's a very warming brew. I still have another bottle to enjoy, but I've noticed that this one is post-Duvel and pasteurised, and has a shelf life of 2010, so there's no urgency.
This is my last Belgian Ale review for a while, I figure it's time to move on to something different. There are plenty more for me to return to though!
4 Stars Rating:

Bob the Brit