Quite some time ago I sent Scott, at The Brew Club, a James Boags Premium Lager from Australia.  Just for the hell of it!  Anyone who loves a BBQ and a beer is alright in my book so I figured, why not?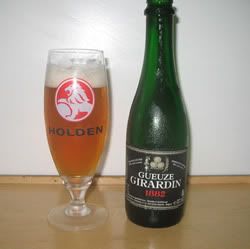 In keeping with my 'pay it forward' philosophy of life, I never expected to receive a similar gift.  But, Bob the Brit, (a serial reviewer on The Brew Club with an encyclopedic knowledge of beer, and a unique and enviable placement in the UK to roam Europe with impunity, searching for unusual and interesting beers), must have picked up on my whimsical interest in the Lambic beer style.  And, lo and behold, he sent me a rather decent sample at great expense!
My fascination with this Lambic beer concept; brewing by opening up some remote Belgium brewery's windows and letting Nature take care of the yeast additions as She sees fit; stems from idle curiosity.  But don't be fooled by my casual attitude, I shall give it the full Aussie treatment!
So I receive my package from Bob, thankfully unmolested after its long journey from England, and find something very special inside.  A Gueuze Giradin 1882, black label, unfiltered, 5% ABV Lambic beer to be exact.  The word 'gueuze' refers to a second brewing process where old and young limbic beers are blended together.  Even the receptacle is an interesting piece of work, resembling a miniature champagne bottle, complete with wired down cork.
I was very pleased to release the cork without shattering a fluorescent tube or taking out an eyeball, (a common occurrence around Christmas), and poured the beer into a chilled Holden embossed glass. (Gratuitous advertising of a favourite vehicle brand.)  The frothy head was excitable at first then died down to nothing without any lacing effect. I heft the empty bottle and discover the reason it travels so well.  The glass is so thick you could use it to knock out a whole bar full of bikies with no chance of breakage!
It's difficult to describe the Gueuze Giradin 1882 without stealing pretentious sounding excerpts from other reviews.  (I tend to refer to professional tasting sites in the fear that I'm missing something but usually end up laughing at them.)  Forgive me as I fall back on the layman's vocabulary that I actually understand for this description!
Breathed deeply, the nose is a very fresh and lively apple/citrus, with a honey-like undertone.  This is a first for me to really smell something that doesn't come through on the tasting; however the taste has no honey tones whatsoever.
A blind taste test would have me swearing this is a spectacular dry cider.  Overriding all else is a very tart flavour with sour finish that accumulates as the beer is retested several times. The taste is complicated by sparkling dry white wine/champagne thoughts and a wonderment as to whether this is really a beer at all. Actually I'm still not sure!
Did I like it?  Yes.  The wife drank most of a glass and decided it was too tart.  I'd agree that it wouldn't do to repeat a round, but as a fresh and different taste it is very acceptable indeed.
I judge it fit to accompany a spicy dish at a festive lunch or dinner and give the Gueuze Girardin Lambic Beer 4 stars!
Rating:
If you're interested in what else Coops has reviewed, check out The Brew Club's Guest Beer Reviews section, or you can visit his home on the Web, "Thought Control"