PRIZE OLD ALE – GEORGE GALE & CO. LTD
9.0 alc/vol serving size-1 pt 0.9 fl oz.
Product of England – brewed and bottled by George Gale & CO. Ltd – London
As I was perusing through my local liquor store in the single section of beers, (as I do every night) I happened to stumble across GEORGE GALE & CO PRIZE OLD ALE 2007 and thought it would make an excellent extracurricular beer review for The Brew Club!
Nothing about the bottle itself is eye catching, it's packaged in a 1 pint bottle that is brown with a red, gold, and black label with a sepia toned photograph of what looks to be an English Village (Not sure if it's an English Village, but I'm just assuming it is because it's brewed and bottled in London).  The one thing that definitely sticks out as I take a closer look at the label is the alcohol content.  It's 9.0% alc/vol.  Whew… strong!
Boy oh boy… This English beer sure does make some of the other beers I've had seem weak in comparison!
What makes this Prize Old Ale special?  According to the label – "A small amount of yeast is allowed to ferment gently in the bottle, which gives this old ale the fresh natural flavor of real ale." This particular one was bottled and brewed in 2007, which means the yeast has been fermenting in this bottle for 2 years.  It's recommended that the beer be stored upright in a cool, dark room and poured carefully when served.
I can't deny that I'm both nervous and excited to try this beer… excited because it's been sitting, fermenting somewhere for two years, but nervous cause it does have a strong alcohol content.  Luckily for me it's low-key night here in Jersey (cause once again we'll be getting snow!! – not excited about that), so all I have to worry about is enjoying this Prize Old Ale tonight!
As I pop open the bottle, I try to pour it the "Scott (aka the loser) – TBC – proper beer pouring method" which produces quite a thick head of foam. The color of the beer is a reddish brown, and the smell of the beer is pretty strong; it has a malty smell to it.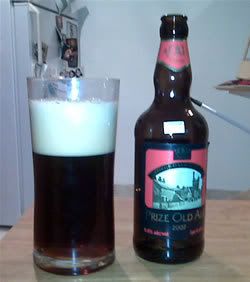 Before I take my first swig of this English Ale, I've noticed that the foam on my glass has gone down quite a bit.  My first reaction to this Ale is, at first its sweet, but has a slight bitter aftertaste as you swallow it.  The beer also leaves my tongue feeling a bit dry as I try to distinguish the other flavors.  Prize Old Ale doesn't taste like any typical beer I've ever had, perhaps that is why I'm having a difficult time distinguishing the other flavors in the beer!
It's also not a beer that you chug right away.  I can definitely tell that the brew masters of this beer meant for the drinker to sip it slowly and enjoy all the different flavors that you get out of it as you drink it.
I do not particularly like this beer that much.  I thought the sweet then sour feel of the beer was quite interesting, but to me it didn't really taste like a beer.  It tasted more like a mixed drink.  I generously give this beer 2 stars.
Rating:
I don't think I'll purchase it again, but if some friends offered it to me, I'll definitely give it a second try.
~Liz