Winter Hook Ale-dk amber,small head decent lacing & foam. Sweet hop smell, piney hop taste,dry & bitter in the end. 6% ABV-Not bad! 3 stars.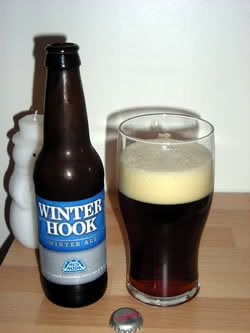 Count 'em.  That's the 140 character (including spaces) beer review I posted on Twitter on January 2, 2009!  Is it the first ever full beer review on Twitter?  I don't know, but I think it might be! (Now I have lived!)
I thought it would be cool to possibly be the first beer reviewer to do a 140 character Twitter beer review!  Why Red Hook's Winter Hook Ale?  This beer just happened to be the last beer in the fridge from The Brew Club's Winter Beer Reviews!  It's a good beer, so don't let the lack of details stop you from trying it!
So what do you think of this beer, or about the first Twitter style beer review?  Do you use Twitter?  If you don't you should check it out, and while you're at it why don't you follow The Brew Club on Twitter?
Anyway, if anyone happens to know that a beer review was done in 140 characters before this one, please let me know!
Cheers!