I've recently examined a number of Belgian Ales for The Brew Club, and I figured it was time for a beer review that was a bit lighter!
Chances are, the first beer you ever drank was a lager, mine was.  At least it claimed to be a lager, a Pilsner. I now know different.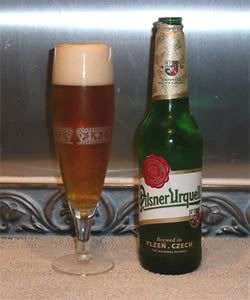 Pilsen is city in the East of the Czech Republic close to the border with Germany.  When I first drove through Pilsen in the early 1990s on the way to Prague, the road from the German border was still littered with tank traps and fortifications, it being only a couple of years after the fall of the Berlin Wall.
The story of Pilsner beer is almost the story of Czech brewing, the town had been granted the rights to brew beer back in 1265 by by King Premysl Otakar II, (not Good King Wenceslas as is often reported), who negotiated with the Vatican for the city's right to brew.  Following the rights being granted the large houses around the town's main town square brewed their own particular brews; the brews were dark, top fermented ales and had a very short shelf life.
The town's burghers were a a progressive bunch, so forward in their thinking that in 1828 they demolished the town's medieval walls.  Thus breaking the town from its medieval roots and ensuring the town's industrial prosperity, which today includes the main Skoda factory.  Then, in 1839 they joined forces to build a purpose built brewery; they employed a young Bavarian brew-master named Joseph Grolle to brew them a beer in the (bottom fermented) Bavarian style.
In 1842 he developed the pale golden beer which is now known as Pilsner Urquell (literally 'original pilsner') but they were unable to register the brand name until 1898.  Germany has acknowledged the Pilsner heritage by insisting that any German beers claiming to be in the pilsner style must be appended –pils – such as Warsteiner-pils or Bitburger-pils but elsewhere no such niceties exist.
The 1840s was about the time that mass produced drinking glasses became affordable, prior to that time beer was drunk in pewter and leather tankards so the appearance of beers was less important; it's not a coincidence that English Pale Ales came about at the same time.  Grolle's clear golden beer was a sensation, being exported on the new canal and railway networks across Europe from day one.  It had reached Vienna by 1856, and Paris three years later; it remains the biggest selling imported beer in Germany.
The progressive (and now very wealthy) burghers of Pilsen could not be described as sentimental, in 1845 they refused to renew Grolle's contract and he returned to his father's brewery in Vishoven, job done.
In 1870 a second brewery was built next door to the original brewery, its most famous brew being 'Gambrinus', not dissimilar in taste to Pilsner Urquell and almost inevitably, in 1946, the two breweries were merged by the post-war, communist government.  Michael Jackson once said "Were it not for Pilsner Urquell, Gambrinus might be regarded as a classic."
I digress, back to Pilsner Urquell; until the 1990's the brew was made in open oak fermenters, the brewery had over 1000, each with a capacity of 30 hectolitres (about 650 gallons).  Sadly with post-communist era western funds, the brewery was modernised and the beer is now made in stainless steel fermenters and lagered in stainless steel, the change in taste was noted by some enthusiasts.  Michael Jackson wrote that the brew had "lost some of its complexity and its malty fullness of flavour".
As I think I've mentioned before, the term 'lager' means, 'to store' – not dissimilar from the English word 'larder' – most 'lagers' are stored for six to eight weeks.  Pilsner Urquell is stored for 'between two to three months', in six miles of lagering cellars cut under the brewery.
The brew itself is, as you might expect is light and golden, with a bright hoppy nose those Bohemian Saaz hops coming through, in fact it's hops all the way.  The mouth feel is what you'd expect from a lager, light, almost sparkly, and totally refreshing, those hops providing a real bite.
Contrast this with the dozens of ersatz 'pilsner' lagers available on supermarket shelves; this is a lager with a flavour, a heritage, and you don't need to stick a slice of lime in it!
4 stars – a true classic in every sense of the word.
Rating:
And… if you're ever lucky enough to visit Prague, there are a few pubs that still sell unpasteurised Pilsner Urquell.  I can recommend U Pinkas?, close to the south end of Wenceslas Square.  Great food, fine beer and a pleasant garden to enjoy a warm summer's afternoon.