The Perfect Beer for Valentine's Day?
This review was originally written for Valentines Day, but its also an English Ale and is retroactively part of our English Ale Month reviews!
I thought it would be cool for The Brew Club do do a special beer review for Valentine's day. (Even though I think Valentines day is a bogus holiday designed to induce guilt and separate people from their money.)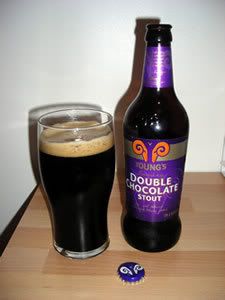 So, when I was recently checking out my newest, most favorite beer store and saw this pint-sized bottle of Young's Double Chocolate Stout, I thought 'PERFECT' for a Valentine's Day beer review!
All the buzzwords that push my spending buttons as a consumer were on this funky purple label – beer, chocolate, stout, ale –  I could not resist, so onto the basket it went!
This Ale is produced by Wells and Young's Brewing Company over in the UK, and FYI the Young's Chocolate Stout weighs in at 5.2% ABV.  Pouring this very dark beer into my testing glass produced a very tight, foamy head, kinda thick and with a nice brownish color.   This foamy head soon subsided into a bit of a frothy layer on the surface of the beer which remained to the very end.  Some, but not much in the way of lacing if you're dying to know about that!
The Young's Chocolate Stout is DARK!  This beer might be about as close to black as I've seen a beer!  Putting a halogen desk lamp behind my glass still did not yield this beer's true color!  Its like a black hole or something where even light can't escape! Let's just say its dark beer.  Real dark!
The smell of this beer is really nice.  If you were expecting to smell sweet, chocolaty aromas from this stout, you'll not be disappointed!  One can easily pick up the smell of chocolate, and there might be some nuttiness to the smell as well, maybe even some vanilla or something  – but its really hard to get past the chocolate in the scent department.
I like stouts, and I like chocolate, so it would make a lot of sense that I would like this beer! Did they pull it off, or did it taste more like some kind of syrupy-sweet drink that Zima fans might like?  (Did I just mention Zima?)  Well, I can answer that burning question in one pseudo-word.   Mmmmmmmmmmmmm!
The Young's Double Chocolate Stout is definitely chocolate infused (duh), but not so much that its overdone.  Rich chocolaty flavors are experienced throughout the whole tasting experience.  From the first sip, to the finish, and even a little chocolatiness hangs in there with the ever so slightly bitter aftertaste.  Really nice stuff.  This ale is definitely on the malty side of  the flavor-spectrum, as there's no hop taste to speak of which I guess isn't really surprising.  I'd say that this was a medium-bodied beer, not watery, but not really heavy either.
To wrap it up, I really liked this beer.  I would get this beer again, and I would suggest that you try it as well if you happen to see it.  I figured it would be cool to review a chocholate flavored beer for Valentines day, and it was!  That said, you can enjoy this one any time of the year, especially if you enjoy stouts as I do!  This stout from Young's is done very well, and has just a little something extra-special going for it.  Try it!
Four stars easy. Rating:
If you remember, I recently did a beer review of the excellent Sam Adams Chocolate Boch which I really enjoyed as well.  Right about now, I'm wishing I had some more of it to do a back to back comaparison – but alas, memory will have to serve.  (Poor you!)  Between the two chocolate flavored beers,  I think I would give the ever-slightest of an edge to the Sam Adams Chocolate Bock over the Young's.  That said, either one would be an excellent choice if you're looking to try a beer done very well with chocolate!