Sierra Nevada Stout – A Beer Review
While Bob has been reviewing Czech Pilsners for The Brew Club, I've recently been focusing on Stouts!  I figure that while its still cold and wintery around here, I'd focus on the dark and rich.  Its a nice balance I think!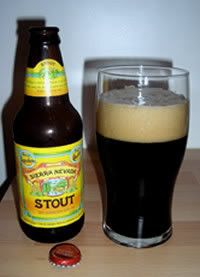 Today's beer review is of Sierra Nevada Stout.  We've reviewed Sierra Nevada beers before, most recently their Celebration Ale, and this Stout sample would be our third.
The Sierra Nevada Stout pours a very, very dark color that could be best described as a deep, deep ruby.  You have to hold the glass up to a bright light to see it, otherwise it appears blackish as one might expect a stout to look.  It creates smallish head that is beige in color and is surprisingly quick to fizzle out.  This beer is not all that carbonated.
The Stout's head reduces to a solid, froth-like layer that covers the entire top of the beer, not just the ring that you often see lurking around the edge near the glass.  This frothy foam layer maintains a cool-looking coffee color, and it does a really good job of sticking to the glass when swirled around.  I'd say I like how this beer looks!
Smelling the beer is a little tough – nothing stands out as the dominant aroma aside from the malt that one might expect.  I can pick up a little bit of a coffee aroma in the background, sweet malt, that sort of thing, but nothing jumps out at you.
Going into the actual taste, this beer initially is very smooth, and sweet maltiness is apparent and there is something of a coffee thing going on too.  Much like the smell of the Sierra Nevada Stout, malt is the flavor in the spotlight, with a cameo appearance by the hops – perhaps more so than other stouts.  Confirming this, midway through a swig there is a wee bit of the hops that you can taste, which provide a bit of a bite so you know they're in there!  After that, the beer mellows nicely with a warm aftertaste that is just slightly bitter.  Overall, I like the taste!
This 5.8% ABV stout is full bodied, and to me has noticeable thickness and I think it has a good mouthfeel that isn't too sticky, but ends up a bit dry at the very end.
I know that Sierra Nevada is one of the best known and most popular craft brewers in the United States, and of the three beers of theirs I have tried, their Stout is my favorite so far.  (I generally like the style.)  However, compared to the other Stouts I've reviewed recently, I didn't think this one was quite as good.  In its defense, the other Stouts I've reviewed for The Brew Club have had chocolate in them, or were milk stouts adding perhaps an unfair sweetness to them!  Still, this beer is very good, and is nicely balanced in every area.  Worth trying if you are a fan of Stouts.
Standing alone, this is a solid beer that I would drink anytime, but on a shelf amongst other Stouts, I might pass it up.  Still, I'm going to give this beer 4 stars.  I liked it.
Rating:
What do you think of Sierra Nevada Stout?  Do you have a favorite stout that you think we should try at The Brew Club?  Leave a comment and let us know!
Wat do people generally think about a microbrewery kit for brewing their own beer at home?