When choosing a beer at my local liquor store for a future beer review, I usually go for the eye-catching bottle or labeling, everything else about the beer I can figure it out when drinking it!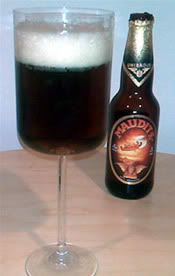 Case in point, the beer that I will be reviewing today for The Brew Club.  The chosen beer is MAUDITE, which is a Belgian Style strong dark ale, and brewed by UNIBROUE of Quebec, Canada.  The eye-catching label has a painting of a canoe full of people floating in the air with a gargoyle looking devil at the bottom of it.  Upon further inspection of the 12 oz bottle, I noticed the alcohol content for this brew is 8% ABV, (pretty strong) and it states that it's an ALE ON LEES.
I know what you're thinking, what the hell is LEES??  Well, I didn't know either, but after looking it up, "Lees refers to deposits of dead yeast or residual yeast and other particles that precipitate, or are carried by the action of "fining", to the bottom after fermentation and aging."  Which in basic terms means that the longer you have the beer, the stronger it will get, or to put it another way, Maudite is an ale fermented on yeast in the bottle.
Another cool thing that I noticed was the carrying case of the 4-pack, it tells you why they chose the strange painting to adorn their beer packaging.  According to the Canadian "legend of the flying Canoe", a group of "thirsty" lumberjacks struck a deal with Satan to fly them home in their canoes in time for Christmas and its festivities.  La MAUDITE which means "the damned" honors those legendary lumberjacks.
Now, let's get to the interesting stuff… Drinking the Maudite beer!  According to the label, you're supposed
to pour the beer into Tulip Glass, but having no Tulip glass available, I went with the next best thing – my weird looking wine glass.
Once poured into my glass, the color of the brew is light amber with a couple inches of foam.  The first smell that comes to mind is malty.  As I take my first swig of this Canadian beer, my reaction is smooth but with a kick.  The taste of the beer is malty, but not overpowering.  It also tastes like there's quite a few different spices in there that give the beer an interesting flavor, but its hard to distinguish.  The aftertaste of the beer is slightly bitter, but it works because of the different spices.
Another thing that I notice is that with most beers that I have tried that are 7% ABV or above, you start to get like a liquorish or wine-ish taste to it, but with this brew I detected none of that.  So even thought this beer is a little on the strong side, the alcohol taste seems to be masked well.
I definitely like this "damned" beer.  It's different, smooth and pretty strong.  I give it 4 stars.  Definitely recommend everyone to give this beer a try, and will also purchase it again at the store and at bars.  Have you tried Maudite Ale?  What do you think about it?  Leave a comment below, and share with the class!
Rating:
Glancing at the label again, I don't blame those lumberjacks for making the deal with Satan for this brew… Matter of fact; move over lumberjacks, I'm jumping aboard the flying canoe!
Editor's Note – Liz was a lumberjack in a previous life.