Doing beer ratings for The Brew Club is actually a lot of fun!  I've gotten to try a poop-load of different beers over the course of a year that I might not have ever tried over an entire lifetime!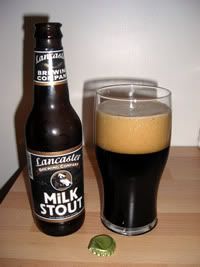 Case in point – Lancaster Brewing Company Milk Stout.  Why on earth would someone buy a beer that is dark as night, has a picture of a cow head on the label, and seems to have milk stuff in it?  Well, before The Brew Club, I probably would have not given it a second thought and just grabbed a six pack of Bass or Sam Adams (still good choices, right?), but now I've found that I reeeeeeely like this Milk Stout concept!
I think you might too!
Milk Stouts (or cream stouts as the British might call them) have lactose sugar in them, which is the same stuff that gives you a bellyache if you are lactose intolerant.  (If you are, maybe avoid this beer?)  Its essentially milk sugar, and from what I have learned lactose doesn't ferment ,so instead of turning into something weird and alcoholic in the brewing process, it remains nice and sweet.  The milk sugar adds 'sweetness, body and calories' to the beer, and supposedly Milk Stouts were even a recommended food for nursing mothers!  How times have changed since the 19-aughts, huh?
So, there's the idea behind Milk Stouts in a nutshell.  On to the Lancaster Milk Stout!
The 5.3% ABV Lancaster Milk Stout pours really, really dark as you might expect from a stout.  It creates a nice brownish foamy head that is rather fizzy, but by the time I'm ready to drink this sweet stout the head is pretty much gone save some foam around the edge of the glass.
Upon smelling this beer, you can tell right away there is something different compared to 'regular' beers.  You pick up the sweetness right away – but it isn't the floral kind of sweetness that you get from many beers, its more like a toffee smell, and quite strong at that!  I'll admit that I'm really into this style, so smelling this beer has me  pumped to drink it!
The first thing I notice about the Lancaster Milk Stout when I take a nice big sip is that its smooth.  There is just the slightest taste of hops, but it is definitely a malty type brew – no surprise there I guess!
I can also readily pick up on the sweetness, which is not overdone at all. This is not the wine cooler type of sweet, but rather a mature, rich sweetness that really ads a nice touch to the malty, and mellow flavors that pour from the glass.  There is something of a coffee or chocolate flavor involved as well, which to me is just icing on the cake.  (A poor sweetness analogy, I know!)
There is a decent thickness to the body of this beer, its certainly a few steps removed from water in that department, and the mouthfeel leaves a bit of stickiness – probably the sugar!  The aftertaste is also quite pleasant and enjoyable, no bitterness, no bite.  I would say this beer is on the very opposite on the flavor spectrum from say an IPA style beer with massive hoppiness.  I like that!
Overall, I really enjoyed this Milk Stout from Lancaster Brewing Company, and I even think it is slightly better than the Keegan Ales Mother's Milk which I also recently reviewed and enjoyed.  I actually wish more breweries would experiment with this style of beer because there are not many that make it as far as I know.
So, of you see the funny bottle that looks more like a bottle of chocolate milk than a bottle of beer, check it out!  Like me, I probably would have NEVER tried something like this if it weren't for The Brew Club, but I'm glad I did because I've found that this style of beer (Stouts) is really one of my favorites!  Expand your beer horizons!
Rating:
PS – If you're thinking about trying your had at home brewing, buying Microbrew Kits from The Brew Club will help us continue to buy, drink and review beer for you! It's for science. It is.