In my recent introduction to Polish Pilsners for The Brew Club, I mentioned that in the winter of 1990/91 while working in the city of Wroclaw, I would occasionally enjoy the occasional half litre (pint) of Okocim or Zywiec (pronounced Zhiv ee etz).
Okocim
The brewery in the town of Okocim was founded in 1845 by Johann Evangelist Götz, a German, part of the brewing revolution that swept central Europe following Jospeh Grolle's invention of Pilsner Urquell in 1842. The brewery expanded over the years and, in common with all Polish breweries was nationalised in 1945 after the second world war. It was re-privatised in 1990 and in 1996 it became part of the global Carlsberg empire.
One result of this brewing globalisation is that the global brewing giants brew beer wherever they see fit, with little regard to history or the nuances of local production – which leads us to John Smiths Yorkshire bitter (owned by Heineken) being brewed in Lancashire, not Yorkshire.  In the case of Okocim, it means that strong 'Okocim Mocne' lager is now brewed, not at Okocim but in Krakow.
The Okocim pilsner is pretty much as I remember it from the 1990s, brewed to a premium 5.2% ABV it's refreshing but unremarkable.  This is a pretty crowded part of the market, going head to head with major brands like Kronenbourg and Stella Artois, a beer needs to differentiate itself in such company.
The beer pours with a good white head that quickly subsides, and there's a trace (but only a trace) of hops in the nose. The mouth feel is pretty much what you'd expect from a pilsner, we're not in the domain of thick 'chewy' beers here.
The flavour, well like the nose there's a trace of hops, but the overall taste is lightly malted, there's nothing much to report about here. It's a pleasant enough pint, but nothing more than that; the main customers for Polish beers (according to my local beer shop) are ex-pat Poles.
3 stars – I wouldn't refuse it, but I wouldn't seek it out.
Rating:
Okocim Mocne

As I mentioned above, the Okocim Mocne (strong) is brewed at the Krakow brewery but at 7% it lives up to its 'strong' name.
It pours with a good head that subsides quickly, but with no discernible nose, not dissimilar to regular Okocim.  The flavour is deceptive, again very similar to regular Okocim but with a hint of honey, which is unexpected.  Normally with beers of this strength I would expect a hit of cane sugar, but this comes it more subtley.
Again the overall experience, while unexciting, is not unpleasant, and certainly deceptive, this doesn't taste like a 7% beer. 3 Stars Rating:
Zywiec
Zywiec Pilsner beer is brewed in the city of Zywiec in the Carpathian mountains of Silesia. The brewery was founded in 1852 by Archduke Albert, Duke of Teschen with his younger brother Karl Ferdinand, Archduke of Austria.  It was originally, rather grandly, named the "Zywiec Archducal Brewery" and it commenced brewing in the popular 'pilsner' style in 1856.  After reprivatisation in the mid nineties, this brewing concern was bought in 1998 by Heineken who invested heavily in a new, modern brewery.
Zywiec promotes itself as a light pilsner beer, but brewed to 5.6% ABV, slightly stronger than most premium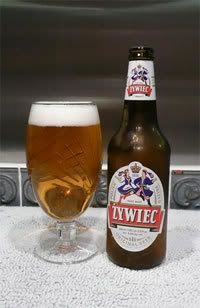 lagers.  The brewery is fed by mountain spring water that (supposedly) gives the beer a slight refreshing taste.
Again, a good head and slightly more Saaz hops are evident in the nose, back in the day Zywiec was considered to be the king of Polish beers; there's certainly more character in this than in the Okocim but I suspect that Zywiec has suffered a little since privatisation and industrialisation, it's just not as special as it used to be.
It's still well balanced, the slightly sweet maltiness giving way to those saaz hops. It's refreshing,  the bottle even features a label that changes colour to ensure the beer is sufficiently chilled.
Again 3 stars – Polish expats will search this out, and I wouldn't refuse it, but there are other beers I would choose first.
Rating:
So… after tasting four Polish lagers, which would I go for?  Without hesitation I would go for the Tyskie, it stands head and shoulders above Lech, Okocim and Zywiec.  There's nothing wrong with the others, they're all respectable beers in the pilsner style.  It's just Tyskie is closer to the original, and gives more of a drinking experience.