So its another Friday after work and sit down to have a beer and review it with you – The Brew Club faithful!  I've lately been into trying these Milk Stouts because quite frankly I like them!  Only problem is that there aren't too many breweries that make one, so there are only a few that I can find within a reasonable drive.  If I go up into New York, I can find some of the Keegan Ales Mother's Milk, and much closer to home I can find Lancaster's Milk Stout – so I can make do with that.  Both are very good beers.
Strangely enough, when I was at my new beer superstore, I found a bottle of Milk Stout all the way from
Japan!  It has an oddly shaped bottle, and a distinctive Japanese-looking label so it caught my eye right away!  At closer inspection, I saw the words "Lacto" and "Sweet Stout" amongst the Japanese writing which I assume reads the same thing.
For some reason, I keep thinking about the Simpson's episode with the Mr. Sparkle advertisement.  Remember?  "I'm disrespectful to dirt! Can you see I am serious! Get out of my way, all of you!  This is no place for loafers.  Join me or die.  Can you do any less?  For lucky best wash, use Mr. Sparkle."
Right, the Ale.  Its made by Kiuchi Brewery in Japan and the 11oz bottle of 4% ABV Sweet Stout pours into my glass a very dark color as you might expect from this type of beer.  This beer had very little head when I poured it, which was a bit different from the two other Milk Stouts I previously mentioned that at least initially produced some foam.  In comparison, this beer was kinda flat.  As you can see in the picture, the smallish head was that typical brownish color that compliments the ale in the glass nicely. (From a color perspective, of course.  The head doesn't literally compliment the beer.)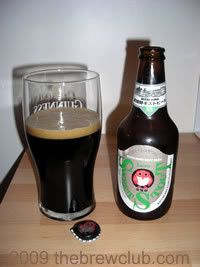 OK, so this Japanese Stout is a little flat, but the smell is outstanding!  You can really pick up on this Lacto stuff because it smells sweet.  Like a strong caramel breeze in the wind on a spring day or something.  Know what I mean?  There's some of the requisite coffee and chocolate aromas in there as well, and its a really nice smell.  I think if you were to blindfold someone and ask them to take a whiff of this beer, they might not even guess its beer!  (Please remember to remove the blindfold, especially before letting them leave the house, OK?)
So here we are at the taste part of the Japanese Milk Stout review!  Now remember, this ale only has 4% alcohol, so I'm thinking that it is going to taste a lot like it smells.  Smooth, flat, and sweet.  Am I right?
Mostly, yes.  OK, so I take my first sip, and yes this sweet stout is smooth, no carbonation or bubblyness to speak of, its big on the malt flavor as expected, and you get some of that caramel, coffee type of taste as well.   While it was certainly sweet tasting, it wasn't as sweet as it smelled or I had expected it to be.  It was a little more bitter than I had expected as well, but that was fine actually.  I thought it had a medium body and the mouthfeel was not watery in the least and there's really no alcohol taste at all with this beer.   I thought it had something of a dry finish, but it didn't leave any weird coating in my mouth or anything like that, but what I noticed most actually was there was a very noticeable lingering coffee flavor in the aftertaste that was nice.
To sum it up, I rather enjoyed this "Kitachino Nest Beer" (Its on the label!) or sweet stout from Japan, and if you like the milk stout style you'll enjoy this beer as well.  I think of the three I've tried so far, I would rate them in this order.  Lancaster Milk Stout, Keegan Ale Mother's Milk, and then the Kitachino Sweet Stout. Rating:
Hope you enjoyed this beer review!  Do you like Milk Stouts, or have you ever had this one?  Why not let us know what you think by leaving a comment below?  We looooooove comments!!!  Cheers!