Once in awhile we like to post 'out of the box' here at The Brew Club, and this is one of those times!  Let's talk about how to furnish a home bar space!
As soon as you start developing an interest in beer (and if you're visiting The Brew Club then there's a possibility that you are) then whole new vistas of opportunity open to you, or more accurately to your friends and loved ones!  While you content yourself with searching out rare and exotic brews, (based on our beer reviews, of course) your friends and family can concentrate on buying you the paraphernalia needed to equip a competent home bar!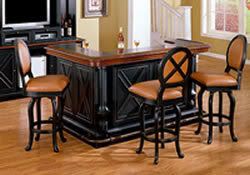 By adding a few simple pieces to your basement, (or garage depending on what the wife allows) you can easily create a home bar that is as good as the real thing or better – at least in your own mind.   While far from being a definitive list, I offer the following few suggestions for items enhance your beer drinking experience.
For starters, you're going to need… (hang on now) a bar.
Getting out to the bar becomes an extensive ordeal as you age, and eventually finding time for it seems to fall to the bottom of just about every priority list you might have.  So instead of always trying to arrange a night out on the town, many adults build personalized bars in their homes.
Home bar spaces are ideal for having friends over for a few drinks, and even work wonders for at-home date nights for couples both young and old.  Unfortunately, finding space for a bar at home isn't always easy, and making the bar space blend in with the rest of the home's interior design can be even trickier.
For starters, you'll need to decide what space you intend to use as a home bar.  If you have an unused island in the kitchen or lots of empty counter space in a bonus room, these areas can work particularly well.  Most people prefer to have their home bars tucked away so that they don't dominate any single room, but still want them to be near lots of natural light with plenty of free space.  Once you've picked a location, just make sure there isn't anything that conflicts with setting a home bar there (such as easy access to that area by a young child).
The next part, furnishing the home bar, is actually quite a bit more fun. If you have really high counter space and don't want to have to stretch to use it, you can pick out some extra tall barstools to compensate.  If you only need a few barstools, you can even go with some larger, more extravagant pieces than you would normally go with if you needed to seat at least 5-6 people at the bar.
Seats should be comfortable, but not to the point where someone feels they should lounge around at the home bar all day.  Barstools that emphasize good posture and provide a pivoting function are often the ones that make a home bar feel most bar-like, which is kind of the point of building a home bar in the first place.  Otherwise, you'd just sit and drink beer at the kitchen table like everyone else.
Be sure the counter space is also flat, easy-to-clean, and not too slippery.  If you put a glass down on the surface and it slides automatically, that is not a good sign and it will only set you up for disaster later.  Really, it all comes down to a balance between functionality and good design.
Bottle Opener – preferably branded with the name of a favorite brewery.  Bottle openers are often given away for free or bundled in promotions… it's worth visiting rummage sales, or at worst they can be found on your favorite online auction site.
In the picture you can see (from left to right) bottle openers from Tsing Tao, Bintang (this one's useful as it's magnetic and clings to the door of my beer fridge), a couple of Hard Rock Cafe openers (also magnetic), 'The Key to the Universe' and (as a last resort) a Swiss Army Knife.
Beer Mats (Coasters (or Bierdeckel in Germany)) – chilled drinks tend to cause condensation on the outside of beer glasses, particularly in humid conditions… amusing 'insert your name here' coasters are often available at major tourist venues (if you must) or again ask your friendly local barman. If you want to be really fancy you can store them in a nifty coaster rack, which could also be added to your home bar essentials list!
Be careful though, the collection of beer coasters is known as Tegestology and can distract from the important stuff – the beer!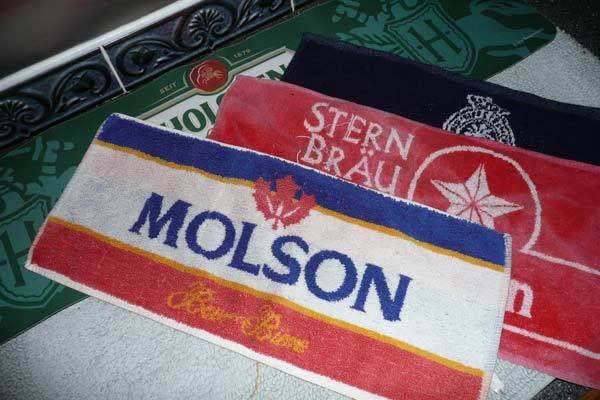 Bar Towel – these are getting slightly harder to find in the UK, as 'Health and Safety' starts to raise its ugly head… but spills happen, particularly when pouring a 'lively' ale, and a bar towel often prevents unsightly marks on your home bar and arguments with beloved partners.  I have found that many barmen will turn a blind eye to the appropriation of a bar towel providing a contribution has been made to the bar's preferred charity collection.  😉
Beer Glasses – okay, this is where it starts to get complicated… Michael Jackson used to recommend a 'tulip' shaped glass, much as used by wine tasters. This allows the 'nose' of the beer to concentrate in the neck of the glass, while maximizing the space for the head to dispense its complex aromas.  Other beers have their own preferred glass shapes as well. Most popular are the Tulip Glass, the Chalice Glass and the Pint Glass – sometimes you want to just drink rather than savor, and oversized glasses are ideal for this, allowing room for a comfortable beer head while still holding a full pint.
Drinking Attire – I can strongly recommend The Brew Club's very own T Shirts as ideal drinking attire!  Wear a Brew Club T Shirt and people know you're taking your beer (reasonably) seriously!
Neon Sign? Nothing says "open bar" and "class" like a neon beer sign!  Lighted beer signs are a staple of any bar whether
it's commercial or home grown.  Today you can easily buy bar signs online, but there may be an even cheaper way to score one!  Local bars might be looking to upgrade their current neon signs and many bars and liquor stores may even have signs in the back collecting dust that aren't being using anymore.  Ask nicely if they have any signs that they are willing to part with for a few bucks.  You may get lucky and get one for next to nothing!  How cool is that?
Beer! – finally, the reason for it all… obviously the preferred Brew Club method of buying a six pack to share with 5 other friends is preferable, but if not, just source what you can, keeping an eye out for the unusual.  In my experience your palate can get jaded after a couple of the more unusual beers, so maybe stick to one or two, but have a couple of your regular brew on hand in case you develop a serious thirst.
So there you go, those are The Brew Club's home bar essentials!  We left out fighting and vomiting intentionally because they don't need to cost anything with the right friends.  Also optional might be a bouncer, bar fly, and terrible karaoke singers.  Those could probably be outsourced as needed depending on how you want to set the mood for your home bar on a given night.
What else do you think would enhance the perfect bar?  Have you put together your own home bar?  Please feel free to share any comments or suggestions, then maybe we'll republish this list as it grows before next Christmas as a crib sheet for your loved ones!
Written nicely by Bob the Brit and some help from Scott.  🙂