I thought it would be appropriate to write a beer review for at least one Irish beer on the week of St. Patrick's Day.  I bet that many beer bloggers will be reviewing something special for the holiday, so I think it will be cool to see who reviews what.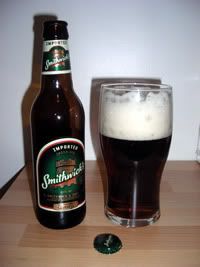 For now, I'll be writing about Smithwick's Irish Ale!  (Usually pronounced 'Smitticks' – silent W) Smithwicks is an Irish Red style Ale brewed in Ireland (obviously) in what is apparently the oldest brewery in the country dating back to 1710.  Smithwick's brewery was purchased by the Guiness people in the 1960's, and it even says on the bottle 'brewed by the makers of Guiness'.  I guess that's so people can associate the two beers mentally.
For me, the Smithwick's Irish Ale created a very tall and foamy head in my glass as you can see in the picture.  It took a bit of time to fizzle out, but when it did there was really thick lacing that did a nice job of clinging to the glass the whole way down!
In addition to the beautiful reddish-brown color of the beer, it was impeccably clear.  No sediment, some little lazy bubbles, but not much else. Very, very clear red beer.
Smelling the beer, the Smithwick's Ale smelled malty and a bit like caramel, not unpleasant at all, but nothing incredible either.  Is "good ordinary smelling" an apt description – because that's how it was.
Tasting the beer, I have to say that at first I was a little underwhelmed, and then I moved further to the bad side of the underwhelmed scale.   Smithwick's is a smooth beer, sure, and there's a nice malt flavor with a touch of a hop bite which works, but to me it just wasn't anything special.  I think this beer is more on the thin and watery side as it felt watery in my mouth but otherwise went down rather smoothly like water does.  This beer came across as flat, and uninspired.   The aftertaste was odd to me as well, and I can best describe it as bitter and metallic.
So there you have it.  Sorry Irish Red lovers, Smithwick's Irish Ale to me is below average at best, and I don't think I'll be having another.  Its better than your 'typical' American macro lager, but it doesn't have much else going for it.
Rating:
Have you tried Smithwick's Irish Ale?  What did you think?  Let us know in the comments section!