St Patrick's Day… only one thing for it, a pint of the black stuff.  The real thing – no not Coke!  Draught Guinness!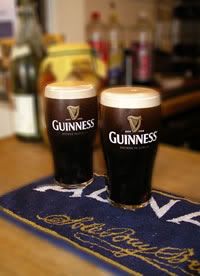 Legend has it that Arthur Guinness was a trainee at Samuel Whitbread's brewery at Chiswell Street in the City of London, brewing London Porter before returning to Ireland after inheriting a sum of money from Archbishop Price.  Having practiced the craft of brewing in County Kildare, he opened his brewery on the banks of the river Liffey in Dublin in 1759.  Guinness Extra Stout can be traced back to the West Indies Porter first brewed in 1801.
Today, Guinness is brewed in 50 countries globally, Including Nigeria, Malaysia, Cameroon, Hong Kong and Ghana, but the brew served in England is now brewed back at St James's Gate in Dublin.
Tradition has it that it takes two minutes to pour the perfect pint of Guinness… well 119.5 seconds.  First, the glass is filled to about two thirds full, then left to stand until the head has subsided, then gently topped up to leave about three quarters of an inch of foam.  Some barmen finish by dribbling a shamrock in the top of the head.  This is of course purely decorative, and any suggestion that it's designed to dissuade drinkers from offering a top up would be strenuously denied by most barmen.
The head is a pale tan colour and rich and creamy, worth that two minute wait.
It's still a classic Stout, rich, bitter with roasted malts, full bodied and with a slightly sweet finish.
The Dublin Guinness is slightly lighter than the brew that was produced in London, so despite its 4.8% ABV it's scarily quaffable.  Nigerian Guinness, if you can find it, comes in at a whopping 7% ABV, closer to the original London Porters.
For the purposes of this tasting I ventured to my local Real Ale pub, the Prince of Wales . Writing these beer reviews for The Brew Club can be a dirty job, but someone has to do it!
Rating:
  a classic in every sense.