That's right! The Brew Club gets March Madness!  In case you live under a rock, March Madness is the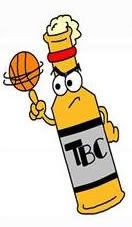 name of the process that determines the national champion of college basketball…NOT something you come down with because you've been out of the sunlight all winter.
What's this have to do with beer reviews?  Well, leave it to Liz and her young, yet to be destroyed mind to come up with what I think is a great idea!  The Brew Club is loosely based on the idea that a bunch of semi-friendly coworkers exchange beers from time to time, and review said beers for all the world to see.
For The Brew Club's March Madness beer exchange we added a twist.  Liz thought that we should each fill out one of those tournament bracket sheets, and then whichever member has the highest points come April 6 wins!  Wins what?  Each member will be buying one of those large bottles of beer, hopefully something that you can't find too easily in a 6 pack.  You know what I mean, like the Sam Adams Chocolate Bock or one of the Chimay bottles?  Something like that.  Then, the winner goes home with 6 nice big bottles of different tasty beers!
No one has actually bought any of the beers for the prize just yet, so I can't list it out for you but I'm hoping that I'll be able to soon.  It really should be fun!  In the meantime, I'll be posting updates as the tournament progresses on this site as the rankings change.  If you want to read more about the tournament itself, you can pop over to Liz's site where she blogs about sports from a Woman's perspective.
Before I sign off, I just want to make note of a couple things.
One, if you're looking for a home microbrewery kit, Coopers is having a "March Madness Sale" where you can get %15 off their beer brewing kit if you use the coupon code 'Madness". That's not a bad deal on an already good value.
Second, I would like to predict that on April 6, when March Madness comes to a close, I will be pronounced the winner of this contest by a very large margin.  While I sort-of respect my fellow Brew Club members, I will be ruthless in crushing them in this contest mainly because of my superior choosing abilities, and my deep understanding of basketball. I will be completely in their faces when I am victorious.  I might even get a flag made with The Brew Club logo on it so I can do victory laps around their cubicles.  Whatcha gonna do?
Anyway, stay tuned, this should be fun!