"Brewed with Irish Spirit" is what the shamrock-laden label reads on the Irish-themed bottle of McSorley's Ale.  Wasn't there a soap called Irish Spirit?  …no, that was Irish Spring!  Anyway, this beer review is to wrap up the St. Patrick's day theme this week!  This beer also says on the label that in addition to the infused "Irish Spirit" it is crafted with, its also "A Classic Ale Craft-Brewed in the Tradition of Olde New York."  Well, I guess if they are going to spell olde like that, who can argue?  (I also think this is the first time we've posted twice in one day!)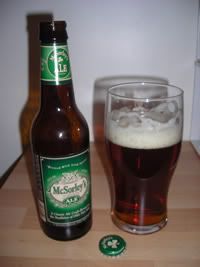 So far, The Brew Club has reviewed Smithwicks, an Irish Ale made in London by the Guinnes people, Guinness whose name is arguably synonymous with Irish beer, and as a hat-trick, we'll review an American beer.  It qualifies because, as the label states, its "Brewed With the Irish Spirit!"
McSorley's Irish Ale comes from McSorley's Brewery which is located in Wilkes Barre, Pennsylvania.  Apparently though, this brewery is owned by the Pabst Brewing Company out of Wisconsin.  That Irish Spirit from Olde New York sure does travel!
OK, enough already with the label and the spirits, right?  How's this American olde Irish-style beer anyway?
As you can see from the picture, this beer poured a rather large and foamy head that quickly fizzed out leaving a trace of foam on the surface of the beer.  The ale is a very clear reddish color, very nice to look at through some light.  It looks remarkably similar to the Smithwick's in almost every sense.  Very clear and  very red – but is is very sucky like the Smithwick's was?
Smelling this beer, there is a big difference between the two.  The McSorley's has a much stronger scent of hops as compared to the Smithwicks, which was more on the malty/plain side of the aroma spectrum.  Strangely, the smell reminded me of the Redbridge gluten-free beer.  Hmmm.
Tasting this beer, it isn't anything like the Smithwicks at all.  There's at least some flavor to this beer, although its debatable if that's really a good flavor or not.  You can taste the hops and there's a little hop bite that I think is a touch overdone.  Hops beat malts in this glass.
This ale is light bodied, but it isn't trying quite as much to impersonate beer-flavored water like the Smithwick's seemed to do.  There is a decent mouthfeel, rather clean with a smooth finish and just a little bit of bitterness in the aftertaste along with something of a bready flavor that lingered.  Again, I am somehow reminded of that Redbridge stuff!
One thing I can say, is that as I continue to drink my almost 6% ABV American-made "Irish beer", I like the aroma less and less.  Something odd about it, but on the other hand, the taste remains consistently average.  This would be a good beer with a burger or a steak, which I wish I had at the moment, but unfortunately don't.  A juicy steak would improve this beer immeasurably!
In conclusion, I would say that of the three "Irish" beers I had this week (Only one of which was really made in Ireland) I would rate the Guinness as the best, this McSorley's, and then the Smithwick's third.
Rating:
for the McSorley's Ale
What am I missing?  The Guinness I had was rather dud-like, although Bob the Brit had a good pint to review from the tap.  The Smithwick's was painfully bland, and on top of that its not even brewed in Ireland!  This McSorley's was my last hope of a good Irish beer for St. Patrick's day week, and I have to say I'm left a bit disappointed.  I hope I can do better next year.
Other than Guinness, which everyone knows, what's a good Irish made beer I should try?