Our latest beer review is of  Kronenbourg Premier Cru – the luxury brand in the Kronenbourg beer family.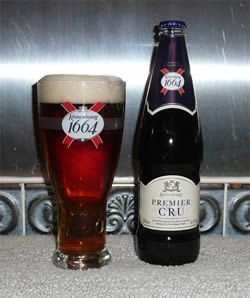 Kronenbourg is probably the strongest competitor to InBev's Stella Artois brand in the UK premium lager market.  Kronenbourg 1664 (5% ABV), is named for the year the original brewery was founded (in Strasbourg rather than Cronenbourg) and is widely available on draught in the UK.  Sadly 1664 is also brewed in the UK, under licence (by Heineken who bought the Scottish & Newcastle group at the start of 2008), but it's still a refreshing premium lager for day to day drinking.
Kronenbourg Premier Cru (a 6% 'slow brewed' premium lager) on the other hand is actually brewed in Strasbourg.  This beer has recently been repackaged in an effort to lend the brand more cachet in a distinctive blue glass bottle whose shape is supposed to have been inspired by the Eiffel Tower (yeah right!).  Premier Cru is not (to my knowledge) available on draught, but I would be happy to find it on tap one day, mind you at 6% ABV, perhaps better not!
As you should see from the photo, Premier Cru is slightly darker in colour than your normal lager, maybe it's the slow brewing. The head is full and rich, but it soon fades and there's no noticable lacing as you drink down the glass. (Notice the glass – that's the new Kronenbourg designer glass, fine for bottled beer, but a good half inch head on a pint of draught can 'save' the landlord about 15%!).
At 6% ABV, it's only 1% stronger than the normal 1664, but it's one percent that makes a real difference; the flavour is full and rich, a mouthful of malty richness hotly pursued by a hoppy bite.
It's a brew you really shouldn't enjoy, it's a cynical marketing exercise, by an industrial mega brewer, but somehow it works. They know what they're doing these Kronenbourg chaps.
4 Stars Rating:

Bob the Brit
For more great stuff, check out Bob's blog, Bob the Brit!