Kronenbourg Blanc (a 5% wheat beer) is Kronenbourg's entry into the wheat beer / white beer market which while small, is dominated by InBev's Hoegaarden.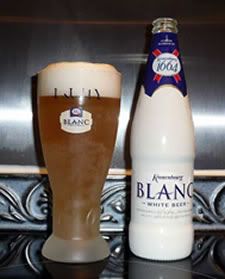 Aggressive distribution (they've got in into the Wetherspoon chain of 700 pubs across the UK – although not ALL of them) means that 'Blanc' is probably the most widely available draught wheat beer in the UK. More widely even than Hoegaarden.  Although, much like Hoegaarden, on draught it's only available at a hefty premium – up to £4.20 (that's about $6.50) a pint – compared to around £3.20 (about $5) for 'normal' Kronenbourg 1664 lager.
For home consumption they've packaged 'Blanc' in the trademark Kronenbourg 'Eiffel' bottle, but in white, so it is quite distinctive on the shelf.
'Blanc' was launched in 2004 and is actually brewed in France, always a good sign.  Well not necessarily the brewed in France bit, but brewed where it's supposed to be brewed, rather than 'Japanese' lager brewed in Bedford, just north of London' – why should that work?
Unfortunately the official 'Blanc' glass is frosted, so you can't see how cloudy this is.  It's not sediment, it's a cloudy liquid, it won't settle out (I remember a lecture by the great Michael Jackson about wheat enzymes and colloidal suspensions, but you really don't want that much explanation). The first thing that hits you as a fruity lemony nose, that is almost overpowering; there are hints of orange peel, coriander and vanilla in there, as you'd expect from a wheat beer, but they're well hidden.  In parts of Germany they put slices of lemon in the wheat beer, but in this case it's not necessary.
There's a full head that lasts well down the pint, lacing the glass nicely. The lemon comes through in the flavour too, it cuts through almost like a sour sweet, but it's refreshing for all that, even though you might notice my taste runs to the sweeter beers.  On a hot summers day (which this most certainly is not) Kronenbourg Blanc is a refreshing wheat beer.  As we say in England, "it does what it says on the tin".
So, in conclusion, it's a good wheat beer, but not a great wheat beer.  It will never compete with the wheat beer specialists like Paulaner or Erdinger, but it puts the Grolsch Wheat Beer even further into perspective, that they can produce a classic, shows that it can be done.  Kronenbourg have produced a credible attempt.
Rating: