So what's on tap today?  Courtesy of Dr. Beer Love, I have in my hot little hands a nice bottle of The Duck Rabbit Milk Stout to review for you!  The Duck Rabbit Craft Brewery is located in Farmville, North Carolina – and as best as I can tell is not available in the New Jersey area!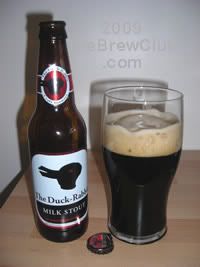 If you've been reading The Brew Club lately (and you should be!) you might have noticed I've taken quite a liking to Milk Stouts.  "What's a Milk Stout?" you ask?  Well, in a nutshell a Milk Stout is a beer brewed that has some lactose sugar added at some point in the brewing process.  Lactose doesn't ferment, so it remains sweet in the beer rather than getting funky.
Don't get the idea that this is Milk Beer, or Milk + Beer.  That would be nasty, and even I wouldn't drink it!  (Anyone remember Wheat Thins and Beer?) Anyway,  the name Milk Stout does indeed sound odd, but I think if you try one you might like it. If you've ever had an Oatmeal Stout or something like Guinness, this isn't too far of a conceptual stretch I think.
So back to the Duck Rabbit Milk Stout then.  Pouring the beer created a larger head than any of my previous milk stouts did, and the head was a very fine, big foamy type.  Bobs going to laugh, but yes it reminded me of the type of head a root-beer float would have.  It was a nice beige color as is typical of the style, and it fizzled out rather quickly but it left a solid coating on the beer surface.  Swirling the beer around a bit, the beer left some tight lacing on the glass.  The beer itself is very dark as one might expect, almost black in color.
As expected, this stuff smells good!  I wish more people would give these beers a try, I they might be pleasantly surprised!  Like I said, if you can handle a Guinness, you can do this.  This Duck Rabbit brew offers up to your nose a chocolaty, roasted malt, coffee/toffee thing, and you can easily pick up on the sweetness in the aroma as well.  Much like the other Milk Stouts, the lactose creates a distinctive scent (and taste) to this style.
Taste.  Now this will be the 4th Milk Stout I've had recently, so I have a little baseline to judge it by.  I've liked them all actually, but I did think some were a little better than others.  Where does the Duck Rabbit Milk Stout fit in?  Let me tell you!
Of all of them I would have to say that the 5.7% ABV Duck Rabbit Milk Stout tastes a exactly like it smells. Its got really malty flavor with overtones of coffee and toffee (that rhymed!) and some chocolate, but again, this isn't really a shock. (it is a Milk Stout) Just slightly bitter at the end, there's a nice aftertaste, that again mimics the smell, and the taste.  This beer has a medium body with a decent mouthfeel that isn't sticky. The beer goes down smooth, maybe just a little flat though, and has the barest of hop bite.  Nice.
Overall , the Duck Rabbit Milk stout is a very drinkable and enjoyable beer – I'm looking forward to the other two bottles I have!  I'd rate it right up there with the Keegan Ales Mother's Milk but just slightly behind the Lancaster Milk Stout which is still (so far) my favorite Milk Stout.  I still have the Left Hand Milk Stout to try, so we'll see how that stacks up soon.  Anyway,  at 3.5 stars, I'd say give the Duck Rabbit Milk Stout a try!
Rating: