Last Summer, when I first started writing for The Brew Club, I mentioned on my own website that I'd visited the Great British Beer Festival (GBBF) and sampled a number of interesting beers.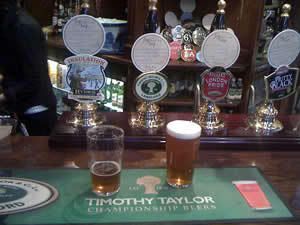 At that time, I wrote about Timothy Taylor's Landlord thus:
'Landlord' (4.3%) Timothy Taylor – this is a classic British ale, and a personal yardstick. It's a full bodied dark amber ale with a slightly nutty taste that distinguishes it from other bitters. I'd give this 5 stars every time and it's a great beer to kick things off with, setting a high yardstick.
After my recent explorations of Pilsner style lagers, I thought it was time to get back to some good honest English Ales, particularly with St George's Day coming up and April being English Ale Month here at The Brew Club!  So, I ventured out for a few beers with some work colleagues and spotted 'Landlord' on the bar pumps and so I now revisit Timothy Taylor's Landord.
A bit of background for you, Timothy Taylor started brewing in 1858 in Keighley, West Yorkshire, moving to larger premises in Keighley in 1863. They remain independent, and owned by the Taylor family while so many other breweries have been absorbed by the multinationals. It's a sad fact that InBev, Carlsberg and Heineken, the top three are so dominant in the UK market that if brewer number four (Greene King I suspect) were to buy every other UK brewery, micro and brewpub, they would still only be number four!
Timothy Taylor's best known ale is Landlord, brewed to 4.3% on draught and also available bottled at 4.1%. As such it's on the strong side for a 'session' beer, but still very tempting. It's won the 'Champion Beer of Britain' on no less than four occasions by CAMRA, and over the years this has become the beer that has won more awards than any other British beer.
The flavour I always associate with Landlord is 'nutty' – this can probably be attributed to the spring-sown Golden Promise barley, that provides a unique malt. Or it might be the hops, Fuggles from Hereford & Worcester, Goldings from Kent and Styrian/Goildings from Slovenia.  Either way the spring water from the Yorkshire Dales doubtless makes its own contribution.
This is a glorious ale, first created in the 1950's when the Barnsley Brewery was closed and Timothy Taylors recognised a gap in the market, something to slake the thirst of Yorkshire's coal miners.  I first tasted Landlord in Barnsley, back in the late seventies and it was regarded as a classic then.  That it has survived despite competition from mass marketed ales like John Smiths is testament to the legendary stubbornness and pride of Yorkshiremen.
I bought a bottle to sample in more controlled surroundings; both in bottle and draught Landlord is a dark amber colour with a full head and hoppy aroma. The head subsides and there's a respectable amount of lacing as the beer goes down, all too quickly. The mouth feel is good, not too light, not too full bodied, and the flavour is rich nutty maltiness behind the hop 'kick'.
Would I still give it five stars?  After due consideration (and in consideration of the discussion generated by giving Draught Guinness four stars) I think I would, this remains the yardstick against which Bitter beers should be judged, and are usually found wanting.
Rating: