Once upon a time, many years ago, there was a family of brewers in Yorkshire, no, not a family, a Dynasty (cue dramatic music and opening titles), let's call them 'The Theakstons'.
Great Great Grandpappy Robert Theakston opened a brewery back in 1827 in the Yorkshire town of Masham (pronounced mash'em) and started brewing some fine Yorkshire Ales using the traditional 'Yorkshire Square' brewing process. This (you might recall from a recent article about Sam Smiths beers) involves brewing in large, double decked, slate lined square baths, as opposed to the conical brewing vessels used in most breweries.
Great Great Grandpappy's ales became very popular and quite famous. The most famous of these was 'Old Peculier' – a strong dark ale named for the fact that the parish of Masham lay outside a church diocese (don't ask, it's complicated and dates back to the middle ages). In due course Great Great Grandpappy Robert handed the control of the brewery over to his son Thomas, and the company continued to grow.
Just after the First World War Theakstons took over (and subsequently shut down) Masham's other brewery, the Lightfoot brewery; supposedly because the Lightfoot brewery would regularly beat the Theakston brewery at cricket. (They take their cricket very seriously in Yorkshire.)
Everything was just fine and dandy, both the brewery and the family continued to grow and continued to brew fine ales until, in 1987, Matthew Brown (a reasonably large brewer) came knocking, asking to buy the company.  We will never know what really happened in the boardroom, but the five Theakston brothers eventually sold the company to Matthew Brown, who were in turn was bought by Scottish and Newcastle breweries, then one of Britain's largest brewers.
The story could have ended there, the beers would now be brewed to a 'similar' recipe in an vast industrial complex somewhere outside Warrington (Lancashire) and the brothers probably would be drinking Pina Coladas on a Caribbean beach.
But it didn't.
One of the brothers, Paul Theakston was a committed brewer; he was retained at Theakston's by the new owners until in 1988 they announced an intention to move him 'elsewhere in the group'.  After raising sufficient funding, he resurrected the old Lightfoot brewery and started brewing.  Some of the brewing equipment used, such as the aforementioned Yorkshire Squares, were sourced from Hardy Hansons, a brewery in Nottingham that had recently closed.
As the 'black sheep' of the family, Paul's wife suggested that that's what they should name the new brewery and so the Black Sheep Brewery was born.  They now brew a range of very well respected ales including 'Riggwelter' (a strong ale named for a sheep that has fallen and can't get back up) 'EmmerdAle' (named for a Yorkshire based soap opera) and Holy Grail Ale (the official Monty Python Ale).
And it doesn't end there.  In 2004 the remaining Theakston brothers bought back the family brewery from Scottish & Newcastle and regained their brewing heritage.  So, the end result of this small soap opera, (and please excuse any artistic licence I might have brought to bear) is that there are two traditional brewers in Masham ( a town of about 2,000 people); Theakston and Black Sheep.  Both produce fine dark Yorkshire Ales, and it is to two of these we shall turn my attention:  Theakston's Old Peculier and Black Sheep's Riggwelter.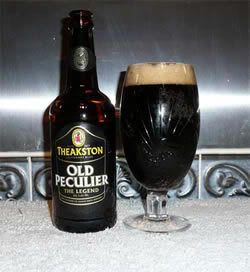 Old Peculier – first produced by Theakstons in about 1890, and widely regarded as a classic.  When I was a teenager, growing up near London, Old Peculier was referred to in hushed tones by other teenagers who had ventured 'up north' and tasted this potent brew.  Of course these were the seventies, when Heineken was Britain's best selling beer, brewed to a mere 3.5%.
At about 5.2% ABV I suspect the brew is less potent than it once was, but it is still a formidable pint.  The head, when you pour, is a pale caramel colour, but it subsides quickly.  There's no noticable lacing.  The mouth feel is less substantial than I expected, quite light, almost watery.  The flavour is rich, malty and spicy with a hoppy bite.
After reflection I've decided to give this 3 stars – it's not the legend it once was.
Rating:
I have noticed references to Old Peculier in draught on Stonch's beer blog.  Methinks I need to visit Stonch's pub in Clerkenwell, purely for research purposes.
Riggwelter – from Paul Theakston's Black Sheep Brewery is named for a sheep that has fallen and can't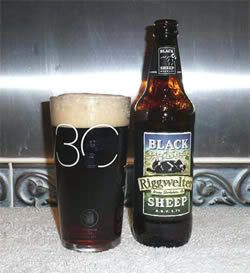 regain its feet without assistance.  Somewhat appropriate for an ale brewed to 5.7% ABV, best hide the car keys.
On first pouring you're presented with a creamy, foamy head.  This soon subsides and you're left with a few bubbles, there's not noticable lacing.  But it's not bubbles or lace you're here for, it's for the rich, full bodied Yorkshire ale that hints at dark roast coffee with its nose.  The beer, if you hold it to a (very bright) light is a rich, dark copper colour, redolent of autumn leaves.
The flavour is warm and mellow, with strong hints of dark chocolate and spice, the rich roasted barley giving way to a hoppy finish.  Exactly what you need on a cold winter's evening.
This is a satisfying pint, and deceptively quaffable… I could easily see myself consuming a few of these if I ever found myself in a pub with this on draught.
4 stars – a modern day classic.
Rating:
So, and I was surprsised at this, Paul Theakston's Riggwelter wins this particular challenge by a head (no pun intended) over the Old Peculier. Despite this it's nice to see two well respected breweries each brewing classic Yorkshire Ales… if you see either of these in your local beer shop then you're in for a treat.