Anybody who knows me will tell you that I don't believe in 'brewing under licence'.  My article about Staropramen for The Brew Club gives an introduction to this insidious trend. I (and many beer writers) believe that as beer is composed of water, hops, malt and yeast, then all these ingredients will influence the flavour. The local water is an important part of any brew, and that a pint of say, Kronenbourg that's been brewed in Reading, England will have subtle differences compared to a pint brewed in Strasbourg, France.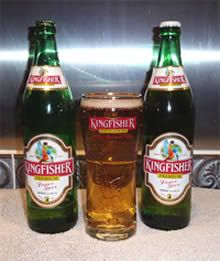 Kingfisher Beer is brewed by the United Breweries group, based in Bangalore, but brewed in 19 breweries around India. It is by far the best selling beer in India, with one in three beers being sold being a Kingfisher. In recent years the group has expanded to include the Kingfisher Airline which serves the UK and a number of destinations around India, they also own the Force India Formula One motor racing team.
Here in the UK, Kingfisher has been brewed under licence since 1989 by Shepherd Neame in Faversham, Kent. I have no problems with 'Sheps' they brew a number of very respectable beers and my local is a 'Sheps' pub, much to the envy of several colleagues.  Locally brewed Kingfisher is a refreshing pilsner brewed to 4.8%.  It's the best selling lager in Indian restaurants in the UK (and Indian restaurants are BIG business in the UK) and while Cobra is catching up fast, it's the best recognised brand of Indian beer globally.
So, when a few years ago a group of us went on vacation in India, and found ourselves sitting at a bar, it was Kingfishers we ordered.  With the temperature being well in the upper nineties, several bottles were consumed in the following hours well into the night.  When traveling in tropical countries it's vitally important to drink fluids, and I prefer mine boiled and with added minerals.  😉
The next morning found our group feeling somewhat bloated, and while we were anticipating other stomach problems associated with ethnic Indian foods, this was unexpected.
My mate Jon (who you can hear on the video and who sadly died on the same day as Michael Jackson, the Beer Hunter), recalled something he'd read about some Indian Breweries adding Glycerine (Glycerol) to their brews to help the head last longer, so we returned to the bar later in the day and questioned Augustin, the bar-man.  He initially denied any knowledge of this, but eventually we cajoled him into demonstrating the glycerine for us.
As you'll see from this video (another first for The Brew Club) he upended the bottle of Kingfisher into a glass of water and you can clearly see the viscous glycerol trickling into the water. I estimated that maybe 10% – 15% of the bottle was the glycerine, and while it's not toxic, it's pure sugar bulk; and assuming that over a day you drink six or even beers (quite possible – remember those fluids!) then the equivalent of one of those beers is pure glycerine.  Rather than go through this every time we ordered a beer, Augustin told us that another local brew, 'Sandpiper', did not have the additive, so we moved over to that for the rest of our trip, and had no ill effects.
Fortunately neither does the UK version of Kingfisher, which I've enjoyed on many occasions accompanying curries, and I confess that it's sufficiently enjoyable to be consumed in its own right.  It's marketed in 330ml and 660ml bottles, and it's the larger bottles you're normally presented with when you're enjoying your Lamb Biryani.
It's a good pilsner, light, bright and with a good hoppy nose, reminiscent of Pilsner Urquell and Tyskie – there's nowt wrong with that.  The head subsides quickly despite the presence of etching in the bottom of the glass to encourage bubbles.  It has a slightly fuller body than most pilsners, but doesn't suffer for that. There's a good balance of malt and hops and the drinking experience finishes with a good hoppy finish.
Rating:
a great pilsner – but beware of the Glycerine if you're ever in India!