Okay, I confess.  Since I started writing beer reviews for The Brew Club last year I've turned into a beer geek. I've started writing about 'Yorkshire Squares', Saaz hops and diacetyl imbuing ales with nutty and butterscotch flavours.  Oh dear!
At Christmas, a friend recognising my revitalised interest in beers, bought me a case of 'unusual' beers – notable perhaps that out of a dozen beers I had only previously tasted one – and included in this case were a couple of bottles of Patagonia Blonde Ale. I know I should feel guilty about the fuel cost of shipping beers around the world when there's a perfectly good brewery a mile down the road, but I figure this world is for exploring.
So – Patagonia Blonde Ale
It's hard to find any real details about this brew except to say that it's brewed in Argentina's oldest brewery, established in Buenos Aries in 1884, and the brewery's statement that they brew to the Reinheitsgebot (the German purity law of 1516) so clearly the brewery was founded (as so many others around the world) by ex-pat Germans. The recipe is stated to include "100% pure malted barley, hops, yeast, and water". No details of which hops are available, but it's likely that they're grown locally.
You're rewarded with a full foaming head when you pour the beer, but the nose is disappointingly lacking in any hop notes. The overall aroma is malty.
And that lack of hops is evident in the taste, it's slightly cloying and lacking the hoppy bit that would normally identify a pilsner (and I've tasted a few lately). I even checked the 'best before' date, as the delicate hop oils are the first things to suffer as bottled beers get older, but no, this was well within it's best before date.
There was nothing else for it, I had to try another, just to check… and the nose and taste were the same, heavy on the malt, and lacking in hops, overall a disappointment. I'd give it two stars, I wouldn't refuse it if I was offered another, but if I were to see it on a supermarket shelf I'd pass on it.
Rating:
Further evidence of my new found geekiness is that when I hear of a friend heading to somewhere I haven't yet visted (such as Tierra del Fuego), I ask them if they'd bring me back a bottle of beer (or two).  So when I learned
that some friends were actually going to visit the 'land of fire' I asked them to try and find a bottle of the Patagonia Negra, to compare against the Patagonia Blonde.
But no, my friends had to go one better (thankfully) and they found me a bottle of 'Fuegian Negra Stout' – brewed by the Hain Brewery in Patagonia, the southernmost brewery in the world.  The brewery, established in 2003, is located in the town of Ushuaia on the Beagle Channel – where Charles Darwin's ship sailed in 1830 on its way to the to the Galapagos and the subsequent formulation of Darwin's theories of evolution.
I sampled this beer on the 200th Anniversary of Darwin's birth, I thought it would be appropriate.
Fuegian Negra Stout
Other than its extreme southern latitude, what is probably most notable about the ales from this brewery is the use of local Patagonian hops, bottle conditioned with a shot of candy sugar to boost the alcohol content up to 7.8% ABV.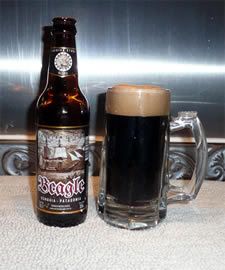 This is is a storming beer that pours with a rich, coffee coloured head that dissipates to leave a trace of toffee coloured lacing. The nose is a good espresso, the sort you used to get in Italian cafes before those people from Seattle hijacked coffee. This is a full on espresso nose, and just a sniff is enough to wake you up.
The taste reflects that coffee nose, it's rich and dark, with hints of toffee (the candy sugar methinks) and dark chocolate.
The mouth feel is lighter than you might expect, not quite a 'stout' as the label would have you believe. Nigerian Guinness, for example, comes across as more full bodied.  Then finally you get a hit of hops, nice.
Overall I'd rank this up with the good porters, four stars… I just wish it was available locally.  But then the old 'food miles' guilt starts to creep in.  Back to Fuller's London Porter methinks!
Rating: