Recently I reviewed a couple of beers from darkest Patagonia for The Brew Club, including Fuegian Negra Stout from the Beagle Channel in Tierra Del Fuego.  Well the same friends that brought me that fine beer were kind enough to bring me a bottle of 'Gull Mack' from the Mack Brewery in Tromso, Norway – the northernmost brewery in the world.
Okay, so there's a brewpub in Honningsvåg that's further north, but they don't bottle their brews, so Mack's is the most northerly brew most of us will ever get a chance to taste.
The Mack brewery was founded in 1877 by Ludvig Mack and has been brewing continually since then, it's still family owned and now has around 130 employees brewing 16 different brews, only some of which are bottled.
Alcohol laws in Scandinavia are complicated; brews up to 4.74% ABV can be sold in supermarkets while anything stronger can only be sold by the government run 'Vinmonopolet' stores, or in bars, and then only for consumption on the premises.  So it took some cajoling (and the equivalent of $5) on the part of my friends to convince the barman to release this particular bottle of 6.5% ABV 'Gull Mack' for export.
The name 'Gull Mack' means 'Gold Mack' and it's a strong golden lager. It pours with a subtle head and more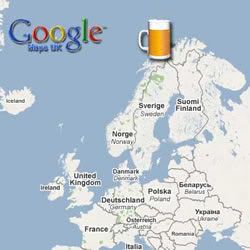 than a hint of hops – not as hoppy as a classic Pilsner, but there's a respectable nose.
The flavour, as you might expect, is full and malty. Once you get above about 5% ABV any extra alcohol really shows through in this case a full 1½ percent . There is a final hoppy kick, but the main flavours are malt and alcohol, not unlike a French 'Biere de Garde' at the same strength.
You certainly know you've had a potent beer.
All in all a pleasant enough drinking experience, something to keep you warm on those long arctic nights, but on balance I'd go to the other end of the earth for the Fuegian Negra Stout. I'd still give this a respectable three stars.
Rating: