Further to my recent beer review of Budweiser 'Budvar' for The Brew Club, I thought I should also provide you with a review of the Budweiser Dark Lager.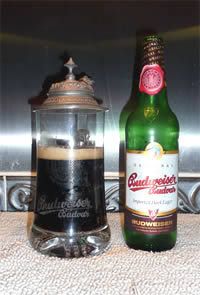 Dark lagers are a mystery to most people, the assumption tends to be pale = lager, dark = ale, black = stout (or porter) but as I discussed in an earlier article, the heart of a lager is a different brewing process.  Lagers are brewed using bottom fermenting yeasts that act at lower temperatures and the resulting brew is stored (lagered) for up to a year to mellow further before being brought to market.
If the grain being used to make the brew has been roasted before being malted then the ensuing drink will reflect the extent of that roasting, both in flavour and colour.  Very much like roasting coffee beans.
Several dark lagers were featured at last summer's 'Beer Exposed' exposition here in London and were well received by the drinkers present.
Traditionally, in the Czech Republic, dark lagers (known as Tmave) were considered to be "women's drinks".  The men would consume vast steins of frothy pale lager, brewed to around 5% ABV, while 'the ladies' would timidly sip smaller glasses of 3.5% dark lager.  With a few notable exceptions; 'Bohemia Regent' (which is brewed at the brewery in Trebon – founded in 1379 (and no that's not a typo – 1379)) has always been brewed to around 4.5% and 'Herold' dark lager from the Breznice Brewery (founded 1506) comes in at 5.2%. Both brews are available in the USA and reward the curious drinker with bold coffee aromas and a bitter chocolate flavours with hints of liquorice.
Budweiser Budvar Dark was first brewed in the Budweiser brewery in Ceske Budovice back in 2004, and at 4.8% ABV it's respectably close to the 5% of their traditional pale lager.  Like the pale lager it's brewed with saaz hops and lagered beneath the brewery for a full 90 days; but unlike the pale lager, the roasted barley provides a latte coloured head coupled with a coffee aroma that puts starbucks to shame.  That's despite being served chilled.
The mouth feel, as with all dark lagers is unexpected, your eyes see the dark liquid and coffee coloured head and braces your palate for a full bodied dark ale, but instead you are presented with a comparatively light lager. It's unexpected, but not unpleasant.
The flavour follows the nose, with rich dark roasted coffee flavours subsiding to a refreshing hoppy bite. This is a beer that satisfies on several levels, but, I suspect not one I would drink too often, the sweetness of the traditional pale Budweiser swings it for me.
Rating:
– great but just not for everyday drinking.
And there's a bar in London, the Lord John Russell in Bloomsbury that I found from Stonch's excellent beer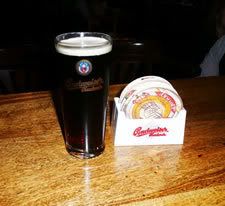 blog that serves both pale and dark Budweisers on draught, as well as a special 'half and half' mix – known in the Czech Republic as 'rezane'.  So, at great personal expense, and purely out of curiosity, I sought said bar and beer out for research purposes.  What the half and half gives is a garnet coloured beer blend that provides the complex bitterness of the dark lager, but blended with the lighter sweetness of the pale… imagine a good latte coffee or possibly even a mocha with those chocolate hints.  I've never been one for mixing beers, but this really works.  And I'd give it 4 Stars any day of the week.
And I've recently learned that the Budvar brewery has brought out a Mocne – 'Super Strong' – brewed to 7.6% and matured for a full 200 days, so that's on my 'look out for' list.
That's what I love about tasting beers, one brew leads to another!  Have you tried any of the Czech Budweiser beers?  What did you think of them?