Today's beer review is the Atwater Block Brewery Vanilla Java Porter.  Doesn't that sound good?  Looking over the label, this beer is brewed with coffee beans, and also has natural vanilla flavoring added to the mix as well, and weighs in at 6% ABV.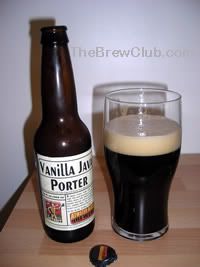 Atwater Block Brewery is based in Detroit Michigan, and one of the things I really find interesting about them is that they feature an imported German brewhouse.  Is this common?  I don't know if having an imported German brew-house is common or not, but it would seem that these guys mean business when it comes to beer!  New Jersey on the other hand likes to export the old classic diners to other States and even Countries!  Anyway….
As you can see in the picture, this Vanilla Java Porter porter creates a small but dense mocha-colored head that leaves a nice surface coating on the beer but no lacing on the glass.  I notice that if I look closely from the top, this beer has little specks of darker brown coloring toward the center of the glass – almost like someone had added chocolate bits or something.  That's not the case of course, but its a neat effect! As you can see, the beer itself is a very dark brown color and held up to the light you can see that its not perfectly clear, perhaps its a bit unfiltered?
The smell (or 'nose' as fancy beer people call it) is not a surprise after reading the label.  Major players are coffee, roasted malt, and vanilla, but to me the coffee really dominates.
Getting to the taste, I felt it was a little bit of the opposite.  I'd say that the vanilla actually dominates the flavor, but to me its a touch on the weird side – like I squirted a bit of artificial vanilla extract into my alcoholic coffee or something.  Otherwise, the beer is very smooth drinking, and the coffee flavors are strong in their supporting role.  There is a little bit of bitterness, and some hop bite gives nice balance to the overall tasting experience.  Getting to the aftertaste, its slightly bitter with guess what, coffee overtones, but its a bit dry ans even somewhat sticky at the end.  Meh.  I'd say the Vanilla Java Porter is a thin to medium-bodied beer, definitely not 'chewy'.
Initially, I had really high hopes for this Vanilla Java Porter, (who wouldn't?) but the more I drank it the less I was impressed by it.  The taste became more of a gimmick to me – I think they went out of their way with this vanilla–java concept, and might have overdone it just a bit.  Granted, I haven't tried another coffee-java porter to compare it with yet, but overall I'm left underwhelmed.
I feel like a bait-and switch has been perpetrated upon my tastebuds!  My tastebuds cry for revenge!  Well, maybe not revenge, but they do seek some kind of restitution.  (If they don't stop bellyaching, I'll drink a Landshark lager or something to show them what bad beer is!)  Stupid tastebuds.
Now, don't get me wrong!  I'm not saying that the Vanilla Java Porter is bad, I'm just saying it 'aint that good.  To me.   I won't feel bad if I don't have another, but I am happy that I was able to give this particular beer a try.  Catch my drift?
Rating:
which is just below average in these parts.
I'd like to mention that this Atwater Block Brewery Vanilla Java Porter graciously comes to The Brew Club compliments of BeerMonthClub.com, so I just wanted to say Thank You for that if you're reading!