I read a lot of other beer blogs on a day-to-day basis, many of my favorites are over in our "Friends" list (AKA Blogroll).  Many times I'll be reading a post about home brewing or an interesting beer review, but occasionally I'll come across a post that gets me thinking in different ways.  Still beer, but different.
Case in point.  How much is too much to spend on a bottle of beer?  Do you have a limit?  If you have a spending limit, do you know what that limit is, and furthermore, why you have it?  Is it purely economic, or is it a psychological barrier to spending more than X amount on beer?  Perhaps its a blend of several reasons?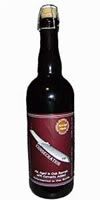 I found an interesting discussion about this very topic on an older post over at  Hedonist Beer Jive.  The expensive beer in question was the Russian River Consecration which is supposedly a very good Belgian Style ale (I've not had it), but it typically sells on the better side of $20 for the 22 oz. bottle.
During the post, Jay (of Hedonist Beer Jive) made an interesting personal observation.  He did not think that there was 3 times the value in the Russian River beer over other beers that were a third of the price.  This makes a lot of sense actually.
He went on to say he recognized that there is a difference between his own spending point that he would not cross, and the price point at which the beer is set by what the market will bear.  So Jay had clearly defined for himself and his readers that $24 is not something he is willing to spend on any beer for any reason.
So, that got me thinking (this seldom happens).  What's my spending limit when it comes to beer?  I remember buying the Sam Adams Chocolate Bock for $12 and really had to stop and think it through.  "$12 for a Bottle of Beer? How do I rationalize buying this?" So, I thought some more (ever rarer) and came up with a couple of reasons. From a quantity standpoint, its more like a few regular bottles of beer in one big bottle, right?  (Someone do the math please)  That makes it a better value right?  To me, it was more like buying a half of a six pack for $12 in one easy package!
On top of that, I had read several glowing reviews about the Sam Adams Chocolate Bock.  So, I also had fairly good intelligence that the beer was going to be good, AND if I broke it down, its like a half of a six-pack and not just one bottle of beer.
So, I bought it, and was really happy that I did!  It was a good beer!
This brings me back to the first point.  What is my single-item beer spending limit?  I know I'd buy an $12 bottle of beer, and looking back, I spent $4 on one little bottle of Japanese Sweet Stout just to try.  But would I buy a $24 bottle of beer?  I think, based on the glowing reviews of the Russian River Consecration that I probably would.  Probably.

Now, what if a beer was $35, $45, $100?  Would I buy it even if I knew it was going to be an amazing beer? Like Jay, I'm thinking there is a point of diminishing returns regarding beer.  I'm not sure a $50 beer would be twice as good as a $25 beer.  What about if its a limited supply?  For $350, would you buy one of 600 bottles of one of the world's most expensive beers, Carlsberg Jacobsen Vintage No. 1?  For me, that's a no-brainer.
NO! But, I guess someone is buying it, right?
If $350 is within your buying range for a bottle of beer, what about $1,000?  Would you drop a grand on a bottle of beer?  Supposedly there is a $1,000 beer called Vielle Bon Secours that is only available in London (maybe Bob the Brit will pick up a couple for review) but it seems a bit hard to actually verify that this is indeed true.  Still, its quite audacious.  For $1,000, this beer aught to deliver more pleasure than an hours worth or orgasms. (How crazy would that be?)
Over at Thank Heaven for Beer, the guys have a good post on some of the reasons why some beers are more expensive than others.  Its worth the trip and gets you thinking about some of the reasons why beers cost crazy amounts sometimes.
The very positive side of all this, is that a market exists for brewers to try crazy and expensive stuff, ask a premium and get it!  If there was no profit in it, there would be no such thing as $25 beer, right?  Personal choice of the consumer to spend $100 on a beer or not.  If they do, Mr. Brewer keeps making it and hopefully a profit – if they don't, well the beer won't be made anymore.  Capitalism at its best!
So that's it.  I figure my spending limit is around $25 once in a while, for something that I know is going to be good based on trusted sources.  Higher than that, I don't think I would entertain buying the beer unless of course there's that orgasm thing – then I might think about it.  I think everyone has their price, maybe they just haven't thought about it yet.  I hadn't.
So, do you have a psychological price point that you will not cross regardless of quality, scarcity or orgasmic-producing goodness a beer may have?  Have you ever bought a beer that was $25 or more? Did you regret the decision or did you find that the beer was really worth it compared to less expensive beers?
C'mon now, speak up – don't be shy!