Having explored several Pilsner style lagers for The Brew Club, it's interesting to see how the pilsner style (which in itself was a Czech beer based on a Munich recipe by a German Brewmaster) has been interpreted by the Germans.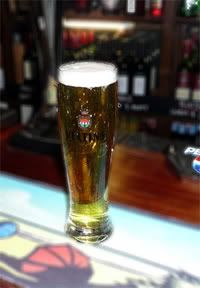 Veltins is a German-brewed pilsner style lager from the town of Grevenstein in the German Sauerland near Dortmund.  The brewery was founded in 1824 as a microbrewery attached to a guest house by Franz Kramer, and was taken over by the Veltins family in 1852.
The new owner, Clemens Veltins was a keen advocate of new technology, installing a steam engine in 1888, innovation which was continued by his twin sons Carl and Anton Veltin, who introduced refrigeration and electricity to the brewery at the end of the 19th Century.
In recent years they sponsored the Williams Formula 1 team.
These days the brewery is run by Susanne Veltins, the great great-granddaughter of Clemens Veltins, and their classic pilsner style lager is brewed to the constraints of the German purity law (the Rheinheitsghebot) of 1516 which, you may recall, states that a beer must be made using only Barley, Hops and Water.  We'll draw a discreet veil over the use of yeast, as that hadn't been identified when the law was drawn up.  Veltins the 4th best selling pilsner in Germany.
We're fortunate here in Essex that the UK importer of Veltins is based close to the area where I live, so several local independent pubs and hotels stock the pilsner on draught.  This makes a pleasant change and this particular pint (okay I had a couple) one was sampled at the 'Old Dog Inn' in Herongate near Brentwood in Essex, a fine old country inn.  I confess I was tempted to try the 'Old Dog' IPA brewed exclusively for the pub by my local brewery 'Crouch Vale' but I guess I'll have to save that for next time.
So, to the Veltins… a crisp bright amber colour with a full creamy white head. The aroma is classic Pilsner, full and hoppy, while the light bright mouth feel has a slight underlying sweetness that gives way to the final hop bite. This is a good example of the pilsner style and at 4.8% ABV it's stronger than it tastes… I was sorely tempted to stay for a couple more.
So.. I would give the Old Dog four Stars, and the Veltins 3.5 stars – good but not great.
Rating:
Bob the Brit