Towards the end of 2009, Scott posted a question here at The Brewclub – How Much is too Much to Spend on Beer? – you can find it here. That article sparked some discussion, and the consensus at that time seemed to be that for something exceptional maybe $20-$30 might be acceptable.
For the record, unless I explicitly mention that a brew has been provided by the beer pixies, I pay for all the beers I review for The Brewclub – out of my own pocket money.  
The reason I raise the question again is that that discussion centred around bottled beers. The other evening I visited Manchester's Port Street Beer House.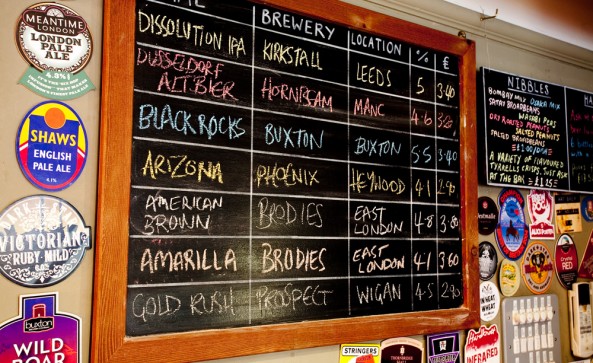 They now regularly stock 'Founders All Day IPA', imported from Grand Rapids, Michigan, on draught. It's a great beer, full of hoppy flavour, really refreshing and at 4.7% ABV it could be considered an all day beer – but at six Pounds (or ten US Dollars) for a pint? On a hot sunny afternoon I could consume a few of those, and that could get expensive.
I'll think about it.
On this particular occasion I opted for Thornbridge's 7.5% ABV 'Biere de Garde' (my favourite beer style from my favourite brewer) for £5.50 ($9.22) a pint.
There were a couple of guys in that night from a Yorkshire craft brewery launching their new Imperial IPA – brewed to an impressive 9.2% ABV. It was priced at £5.50 ($9.20) for a third, or £16.50 ($27.60) a pint. I figured that was a bit excessive (even allowing that Brit pints (20oz) are larger than American (16oz)), and didn't bother.
I did, however, ask a guy before I left whether the aforementioned Imperial IPA was any good. He said that it was a fine beer. When I asked whether it justified £5.50 a third, he shook his head.  
What would you have done? How much is too much to spend on a draught beer?