Thank you for supporting The Brew Club by "buying us a beer" through a secure Pay Pal donation! We know that sending money is a big statement, and we sincerely appreciate it! This beer buying can get expensive, so any bit helps!
Some information for you…
Your transaction has been completed, and a receipt for your purchase has been emailed to you. You may log into your account at www.paypal.com/us to view details of this transaction.
The "Donate" button is common on many websites, and we use the same secure Pay Pal system.
Your statement will have the Pay Pal charge from bergenpctech, or Bergen PCTech LLC, which is the company under which this website is run. I mention this so when you have a small charge from Pay Pal for bergenpctech – that's why!
Thanks again for your support!!!  Scott of TheBrewClub.com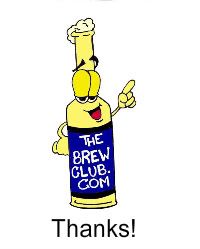 Return to The Brew Club Homepage!